When is a Concealed Carry Pistol Worth $100,000?
Apparently it's worth that much when it was owned by Bonnie Parker, infamous Depression-Era bank robber and companion to Clyde Barrow. A Colt Model 1902 .38 ACP pistol that had belonged to Parker was sold at auction for $99,450 on January 25.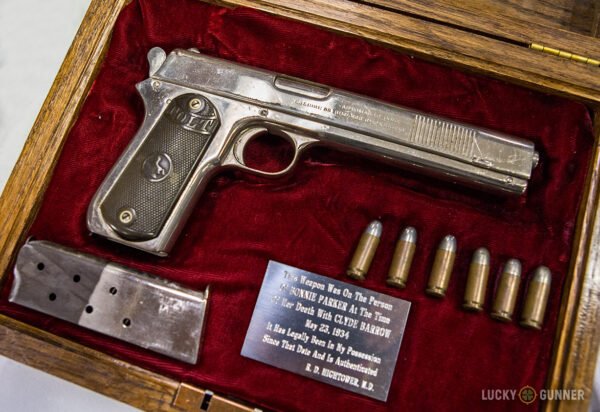 This Colt 1902 was found on Parker's body after she was killed in an ambush by law officers in May 1934, but it was not among the other captured firearms that now sit in museums and collectors hands all over the country. In fact, very few people even knew of its existence until very recently when it resurfaced in an auction at Case Antiques here in Knoxville, TN, just down the road from the Lucky Gunner HQ. According to the description of the Colt on Case's website, the gun was "found enfolded into the outlaw Bonnie Parker's skirt at the Conger Funeral Home embalming room of Arcadia, LA."
After reading this, my first thought was that there's no way they carried the tiny body of 4'11", 90 pound Bonnie Parker from the car she was killed in all the way to the funeral home without discovering the extra two pounds of steel she had "enfolded" in her skirt. I knew there had to be more to the story, and the folks at Case Antiques were kind enough to let us stop by for a more in-depth explanation and a few photos of the mysterious pistol.
"After they were ambushed, the scene starts getting mobbed and people are up there trying to get souvenirs off the bodies. One of the stories is that somebody was trying to cut Clyde's trigger finger off," said Wray Williams, VP of Marketing and Technology for Case Antiques.
"So [the officers] got a tow truck out there, and instead of taking the bodies out and putting them in a regular car, they said 'We've gotta get them back now.' They left them in the car and towed the car with the bodies in it still leaning against each other into the funeral home/furniture store. They took them out, took them inside to the back room with more crowds starting to show up, and took them back to the embalming and autopsy room where this gun was found on Bonnie."
Redeeming A Tool of Crime
The Colt Model 1902 was given to Mrs. Alwyn Hightower, a widow and employee of the funeral home. But, as Williams explained, it wasn't gifted merely as a trophy of the events that had taken place in their town. "Her son went back in with her the next day. He was about 13 at the time. They were presented the gun by the embalmer. It was a souvenir but it was interesting that at the time, the family doesn't remember it being a big deal that it was a Bonnie and Clyde gun, but more that she was a window and it was like, 'well here's something to protect yourself with out of their arsenal.'"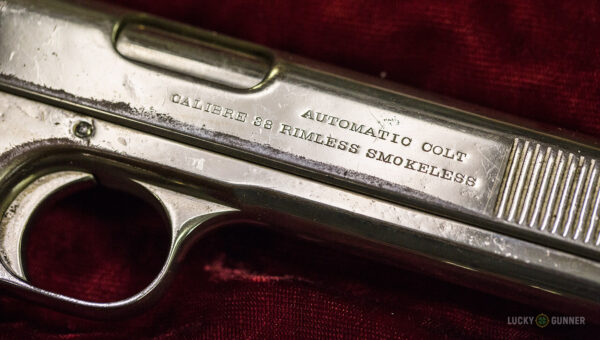 "The family doesn't remember it being a big deal that it was a Bonnie and Clyde gun, but more that she was a window and it was like, 'well here's something to protect yourself with out of their arsenal.'"
The Hightowers kept quiet about the gun, and it stayed in their family, lost to history for decades. Williams said the family assumed most people had forgotten about Bonnie and Clyde after a few years. "They just kept the gun, more or less in a drawer beside the bed for years, is the story. In the 60s, they're wondering 'who cares?' by that point. Then in '67, the movie comes out. Bam. Warren Beatty and Faye Dunaway. They're super popular again."
With popular interest in the outlaw couple renewed, Mrs. Alwyn Hightower's son, Dr. Robert Hightower, traveled back to his childhood home in Arcadia to obtain documented evidence of the Colt's provenance. Most of the people who had been in the room when the pistol was first discovered were still alive and residing in Arcadia. Dr. Hightower was able to get signed affidavits from the coroner, the funeral home owner's wife, and even the local judge who presided over all of the legal aspects of Bonnie and Clyde's death. Subsequent contact was made with interested collectors, but without a good idea of the real value of the gun, Dr. Hightower chose not to sell it. A few more decades passed, and the gun remained completely unknown among collectors.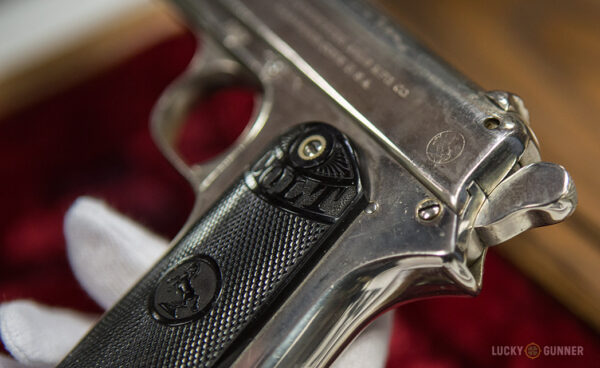 "The family never really talked about it because they just didn't think that much of it," Williams told us. "It was a protection weapon and it wasn't so much a big deal. And there was a taboo piece of it, too. You know, these bad people — should we really be profiting off their memorabilia? Is that the right thing to do? But hopefully it would act as more of a deterrant, you know? You will get caught, you will get killed…"
"…and somebody will make a lot of money off of your stuff," I added.
"That's right!"
A Pre-1911 Browning Design
As a fan of all things John Browning, when I saw the Colt Model 1902 pistol, I knew it had to have been one of his designs, but I also couldn't recall seeing that exact model before. It shares several characteristics of the other pre-M1911 semi-autos of the era, like the more commonly known Model 1905 which is visually similar to the 1902, but chambered in .45ACP. This 1902 Sporting Model, however, is chambered in .38 ACP, a cartridge that was later modified to become the .38 Super (neither should be confused with the smaller .380 ACP). The single stack magazine holds seven rounds, but Colt also offered a "Military" version with a slightly different grip and an 8-round magazine. Unlike the later 1911 design, the 1902 has no external safety lever and no grip safety, since most semi-automatics at the time were not designed to be carried with a loaded chamber.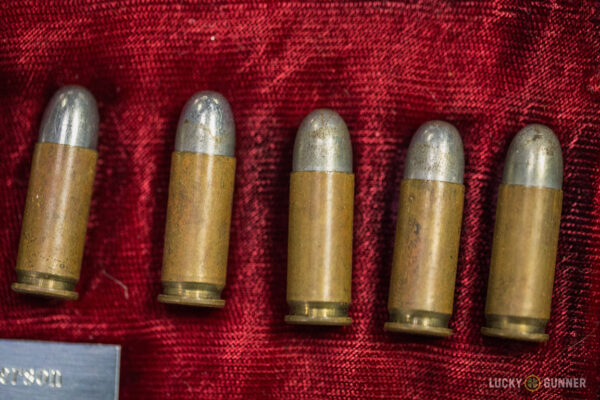 Williams speculated about why Parker chose such a flashy gun as her personal weapon. "If you're a little female and you're wanting to be in the movies and you're already famous — because, you know, she was originally planning to go to California and be an actress, and everything fell apart. So what gun would you choose? The most expensive beautiful nickel plated gun available at the time period is what I'd choose. Not a six shooter to be your personal gun. This was a top-end gun at the time. They only made 7500 of these."
According to a letter from Colt's official historian, Bonnie Parker's Colt Model 1902 left the factory with the standard blued finish, so the nickel plating must have been added at some later date. But that shouldn't take away from the perceived status symbol that the 1902 would have represented in the 1930s. In fact, that was one of the many clues that led to the appraisal experts at Case Antiques to believe in the gun's authenticity. With an original price tag equaling roughly 2-3 month's pay for the average citizen of Arcadia, there is very little chance that someone simply bought the Colt from the local hardware store and attempted to pass it off as a gun having belonged to Bonnie and Clyde. Even without a history attached to infamous criminals, the Colt Model 1902 is a valuable collectors piece today with completed auctions on GunBroker ranging from $900-7500 depending on condition and other historical details.
Compared to the others available online, the Colt Model 1902 belonging to Parker looks to be in pretty rough shape. But that didn't stop at least one person from offering to pay almost $100,000 for it. The auction winner has decided to remain anonymous (although she is reportedly female), so we may never know what kind of person coughs up that kind of cash for a carry piece. But whoever you are, lady, I have a couple of Glocks I'll sell you for the right price. I promise they're much easier to carry enfolded in your skirt than that shiny Colt you have there.

Bonnie Parker's Colt Model 1902 Specs
Model: Colt Model 1902 Sporting
Caliber: .38 ACP
Action Type: Recoil-operated single action
Weight: 35.5 oz (unloaded)
Overall Length: 8.9″
Barrel Length: 6″
Magazine Capacity: 7-rounds
Safety: None