Recently DPMS Panther Arms–a company known mostly for their budget-friendly AR-15 rifles and .308 AR-10 style platforms–released their GII series of rifles in .308 caliber. The GII promises a host of improvements over previous .308 caliber AR platforms such as weight reduction and increased AR-15 parts compatibility.
These enhancements coupled with the competitive price point make for a very exciting product that we were eager to get our hands on. When DPMS agreed to let us evaluate a couple of their rifles I hit the range to put them through their paces.
The Basics
The GII series of rifles come in six different factory configurations, each designed for different applications. The one that interested me most though was the SASS, which stands for Semi-Automatic Sniper System. Having used various long range semi-automatic rifles extensively as a designated marksman I felt that my experience best suited me to evaluate this particular model.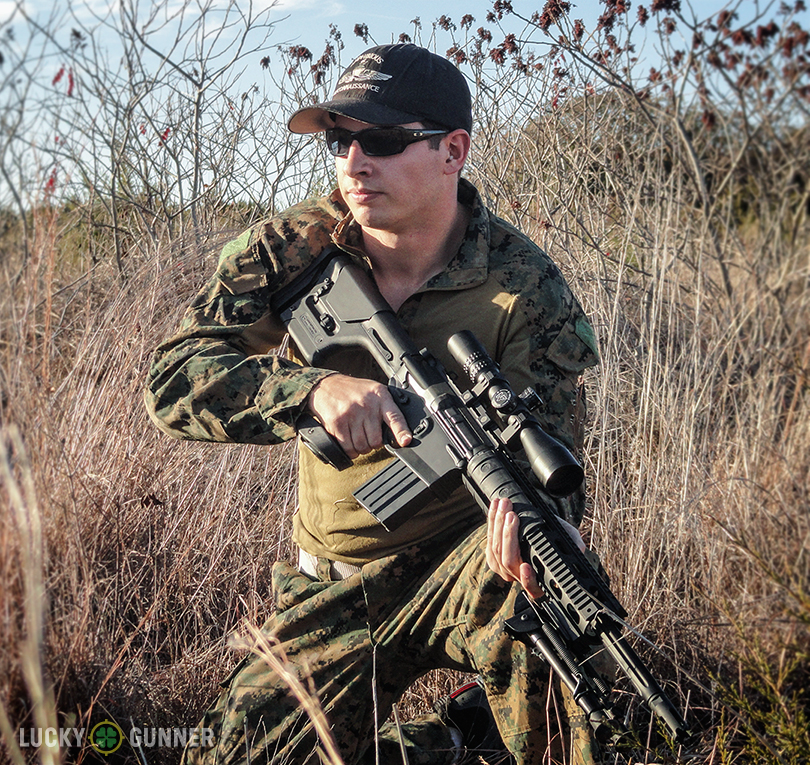 Out of the box I was extremely pleased with the construction and parts choice of the GII rifle. Parts fit together securely and smoothly and it was clear that DPMS put real thought into how they configured this gun. Just like the LRT-SASS before it, the GII SASS utilizes an 18" free-floated barrel which hits an excellent balance of muzzle velocity and maneuverability.
The barrel is fluted and thus shaves weight while maintaining stiffness which is a key component of accuracy. The muzzle is topped off with an attractive flash hider which dissipates muzzle flash in low light in addition to protecting the crown of the muzzle should the rifle get banged up.
All DPMS SASS models feature a fully adjustable Magpul Precision Rifle Stock. This stock is dollar for dollar the best AR stock I have ever used, and is an excellent choice for these rifles. The rifles also feature a target-style pistol grip with an adjustable hand shelf. I found it to be quite comfortable, but it is designed specifically for a right handed shooter. Lefties are likely going to want to swap out pistol grips but they should appreciate the ambidextrous safety that also comes standard on the SASS rifles.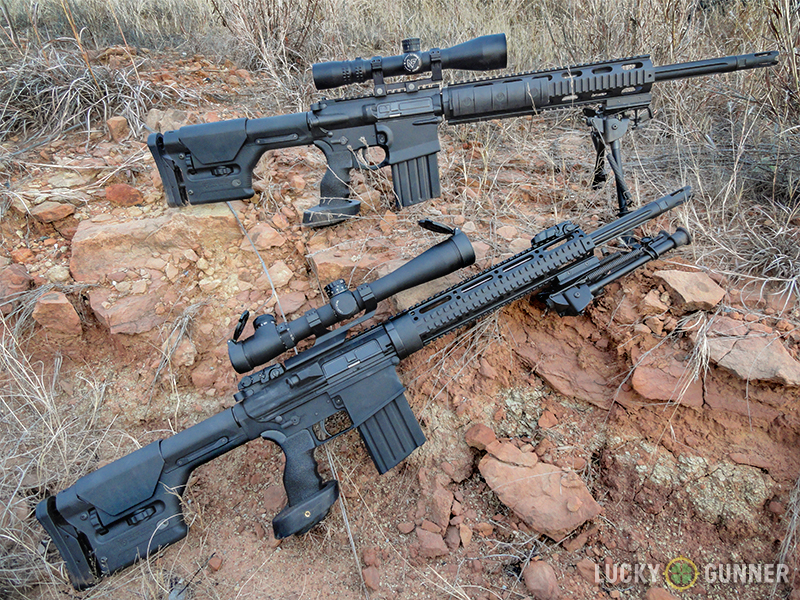 So What's New?
Parts compatibility and weight reduction are the keystones of the new GII line of rifles. DPMS have done a substantial redesign of the current iteration of the AR-10 platform and may very well set the standard for 7.62 AR platforms of the future. Both receiver halves, as well as the bolt carrier have been made shorter, slimmer, and lighter in order to increase parts compatibility between the GII and the AR-15. The distance between the bore and gas tube, as well as the distance between the bore and top rail have also been shrunk in order to match the respective dimensions of the AR-15 platform.
What this means is that the GII rifles can accept AR-15 fore-ends and rail systems so long as they were designed to fit the standard AR-15 barrel nut. This is good news for the .308 AR world where aftermarket support has been somewhat slower to develop. All AR-15 pistol grips, buffer tubes, stocks, and trigger components are able to be used with the GII rifles as well.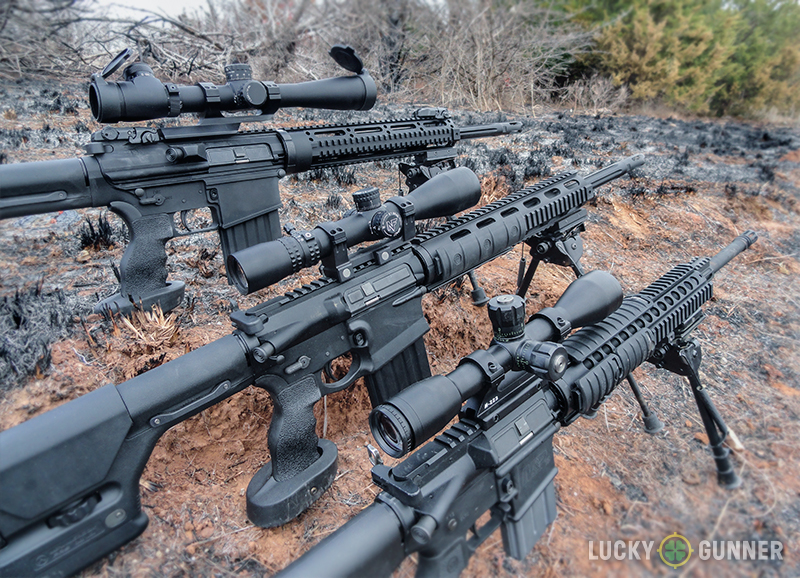 In addition to the overall size changes, DPMS have integrated some really smart features into the shape of the new receivers that improves upon their previous models in almost every conceivable way. The magazine well is now generously beveled and textured making quick magazine changes a breeze and offering more grip for those who prefer a magwell hold.
The trigger guard has been expanded for easy use with gloves, and the magazine release is now easier to engage. The forward assist has been vastly improved over the older design and the ejection port extended for more reliable function.
A look at the internals of the GII reveals that DPMS have really taken to heart the various criticisms of other AR platforms. The gas key is now incorporated into the bolt carrier as a solid piece, thus eliminating the possibility of it loosening up after hard use.
The bolt locking lugs have rounded corners to aid in reliability while also reducing mechanical wear. DPMS have also implemented a dual ejector system and redesigned the extractor, which is now made of a proprietary material and utilizes an elastomer spring instead of a metal coil spring.
Range Performance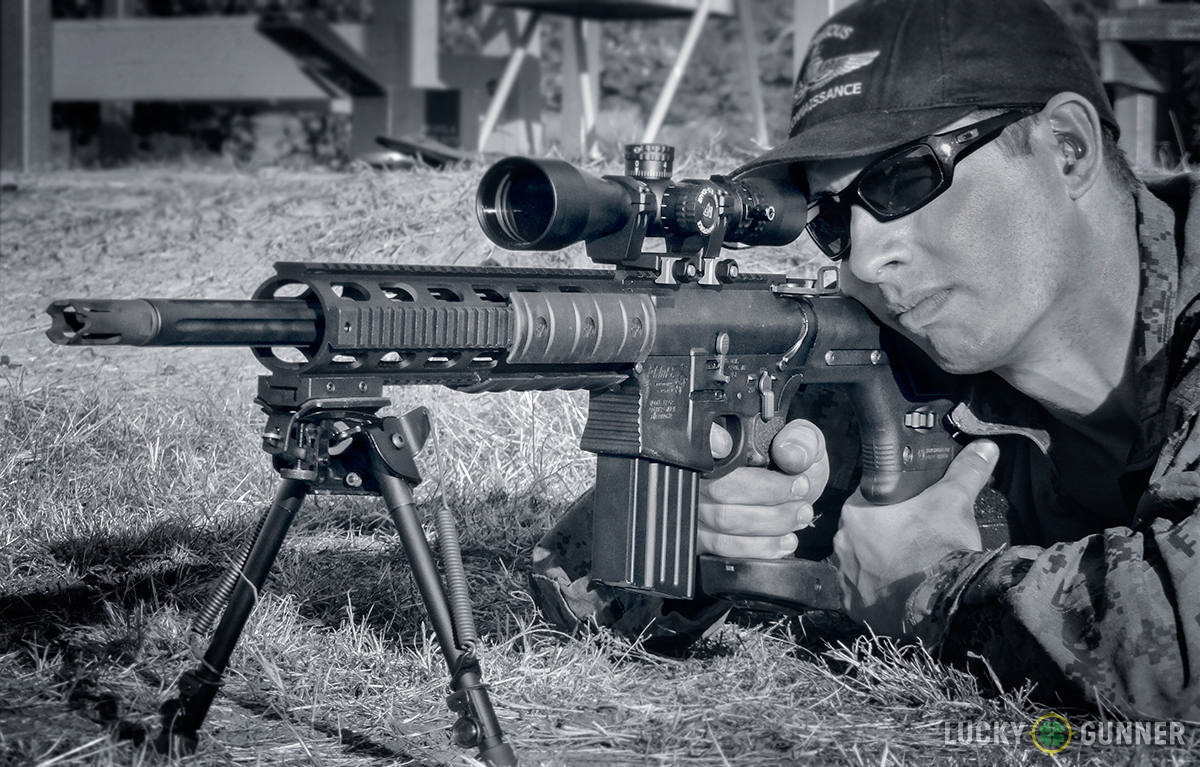 All of these features look great on the drawing board, but they don't mean anything unless the rifle can perform. With that in mind, I headed out to the range with 200 rounds of match-grade 7.62 ammunition to see what the GII SASS could do. I wasn't able to do any sort of exhaustive torture testing, but I did want to evaluate the rifle under actual working conditions so I skipped the bench-rest entirely in favor of the bipod and the occasional rear sand sock.
The minute I got behind the gun and began zeroing I got a whole new appreciation for how nice and solid everything feels. At 10.5 lbs. sans-optic, the rifle is light enough to carry comfortably and yet heavy enough to sit firmly on target when aiming from the prone. It's also a full pound lighter than DPMS's previous iteration of the SASS design.
The trigger is a new two-stage type, with a short slack zone and somewhat "thick" but very crisp break with absolutely minimal over-travel. I didn't have a trigger scale on hand, but it feels like it's breaking right at five pounds, which is just right for this type of rifle. This trigger is a vast improvement over the JP Enterprises single stage trigger used on the LRT-SASS.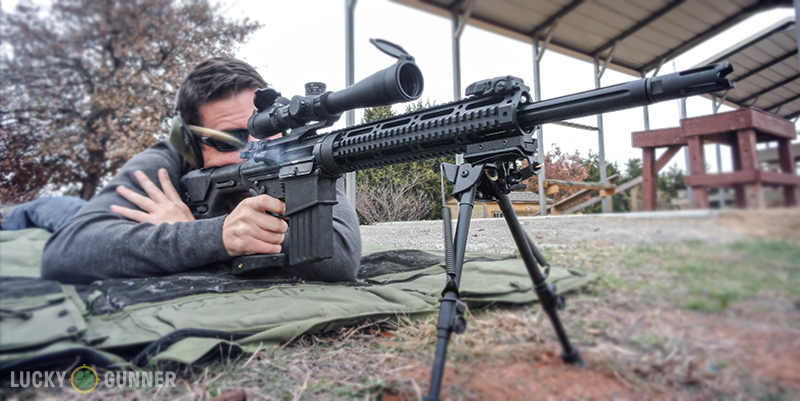 Zeroing was a painless affair and in no time I was doing test groups at 100 yards with some M118LR ammunition. The GII SASS grouped very well, with the best 5-shot group measuring a mere 0.75" center to center. Considering that I only tested one load and didn't have a machine rest I'd say that's pretty impressive for a stock semi-auto, particularly one with a barrel this light.
The typical group size was about 1.25" which is still quite good considering I intentionally avoided stacking the shooting conditions in favor of the rifle. I also noticed that ejection was very brisk and consistent, so the dual ejector system is definitely doing something right.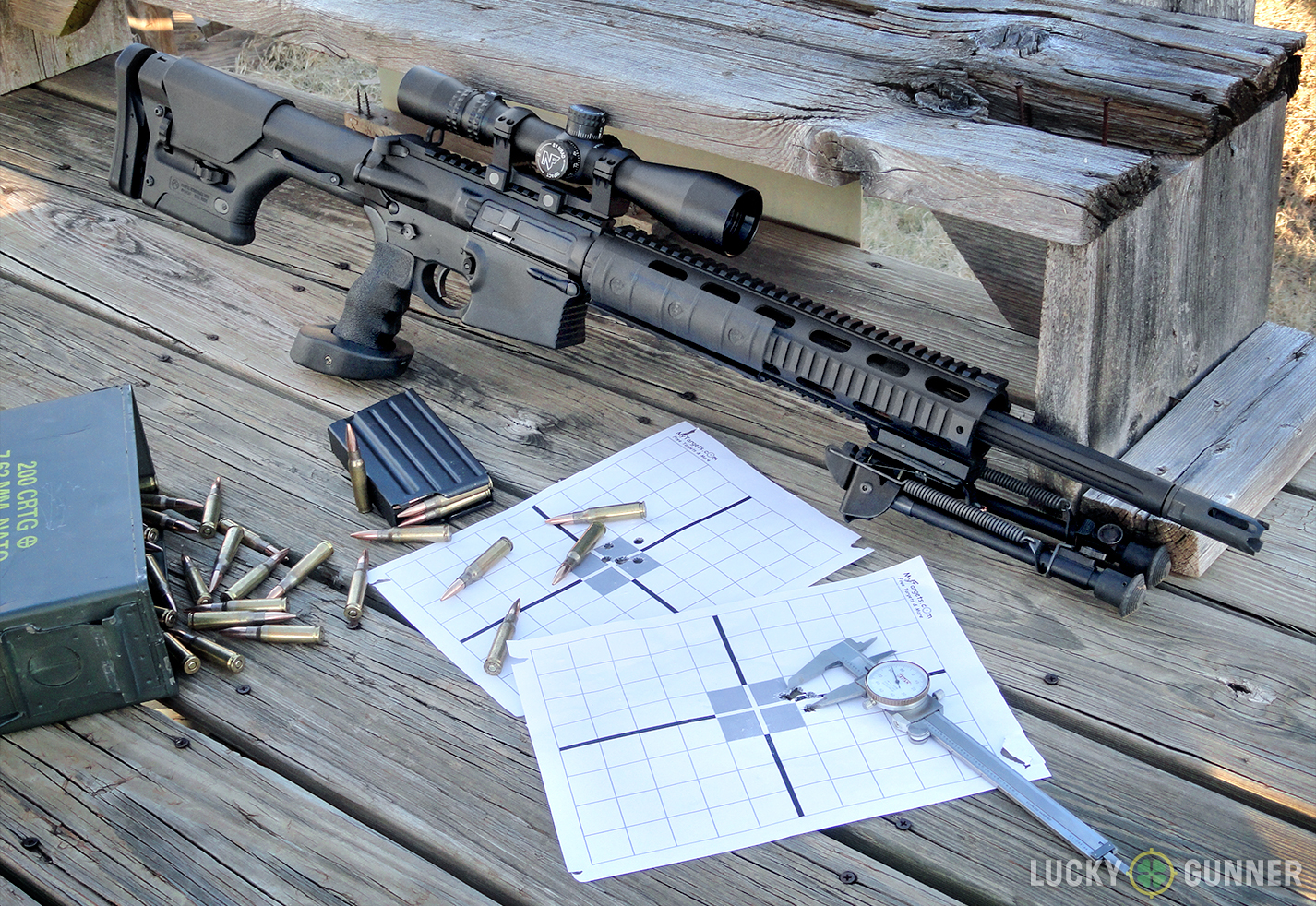 With the obligatory group testing finished, I decided to stretch the GII's legs a bit. I originally intended to move up to the 500 yard line in stages but my excitement got the better of me and I began engaging the 500 yard targets straight away. The targets were both freshly painted steel: one being a human silhouette and the other a 12"x12" square plate. Neither target proved to be any kind of a challenge for the GII SASS and even headshots on the silhouette were boringly consistent.
Recoil was typical for a .308 AR platform and the trigger remained very consistent throughout. The only hiccups that occurred during the course of firing were a few failures to feed within the span of about 30 rounds which appeared to be caused by the magazine. Malfunctions aside, shooting the GII SASS was a pleasant experience and I was very impressed with its accuracy and shootability.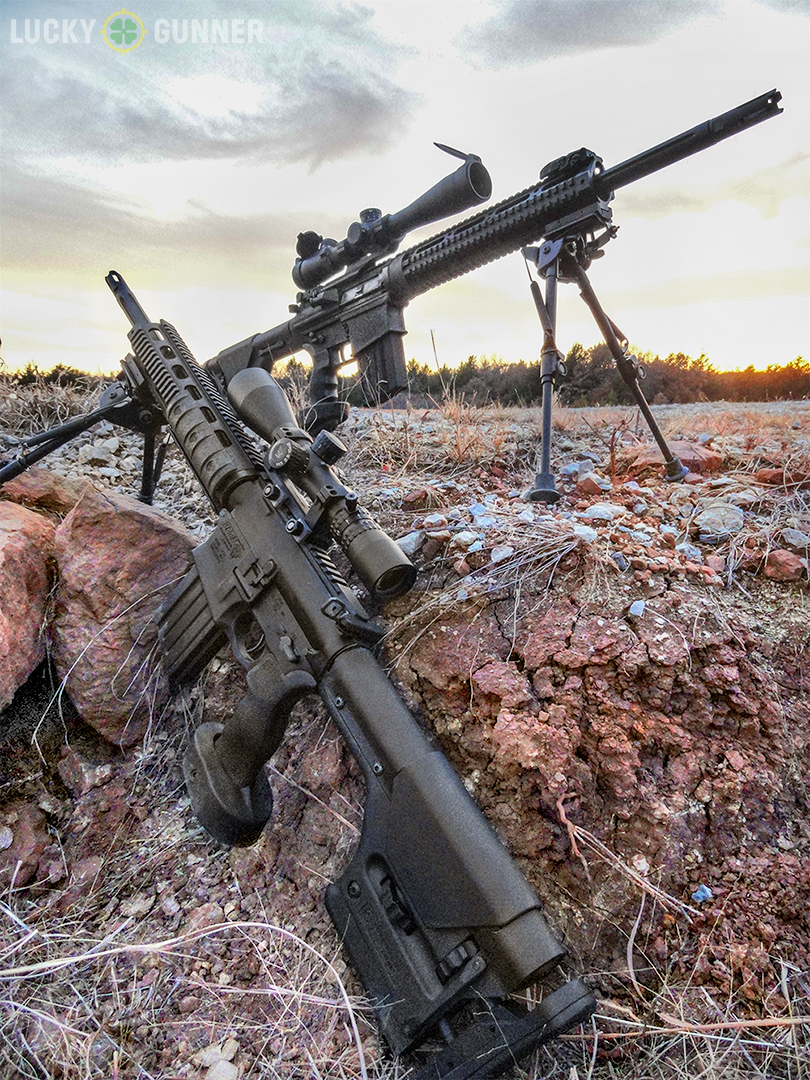 Final Thoughts
While I can't give a meaningful evaluation of reliability based on the limited sample size and round count, I can say that in the face of what the GII SASS offers right out of the box it's hard to be overly concerned with a few isolated magazine-induced malfunctions, particularly when quality aftermarket magazines are so readily available.
The GII design incorporates a ton of popular and sensible features and is a hands-down improvement over the LRT-SASS and other AR-10 rifle designs. With a street price of about $1900 it certainly isn't cheap, but it is a solid performer and you get a lot with the GII that you just can't get with any other AR-10 platform.
Overall, I really have to hand it to DPMS here. They've demonstrated an understanding of the market and they produced something that not only addresses the issues associated with other .308 AR platforms (including their own), but also offers some great features at an affordable price point. It's good to see that there is still room for innovation in the AR world and that there's a company willing and able to do it.