If you travel a lot, you probably do at least some of it by air. When flying, many of you probably leave your firearms behind. This means that you don't have your defensive firearm on you from the time you walk out your door until you get back home, and if you're a dedicated concealed carrier, this probably bothers you at least a little. For some, leaving the gun behind may be a conscious decision. The inconvenience and cost associated with checking a bag, especially for shorter trips, might make this an acceptable trade-off.
For many others, there is a really good chance you just aren't familiar with the process of flying with a firearm. You may even be one of those people that think flying with a firearm is extremely difficult or impossible. This is completely understandable – with the increased focus and spending on security at airports, the thought of bringing a (legal) firearm into one can be intimidating. Though flying with a firearm does require a couple of extra steps, it is entirely possible and not all that difficult. The first and most important step is understanding the rules and regulations governing air transportation of firearms. There are three sets of rules you should know before embarking on a trip with a gun.
The TSA Rules
The basic and most stringently enforced rules regarding flying with firearms and ammunition are those issued by the Transportation Security Administration (TSA). There is some good news here: the TSA's rules are extremely straightforward and easy to follow. Because you will probably deal with a lot of uninformed or misinformed individuals that wield a lot of power, I would encourage you to try to live within the spirit of these rules. I will summarize the rules below, but you should always consult the TSA website for updates or changes. Additionally, it isn't a bad idea to print these rules and have them handy when you arrive at the airport.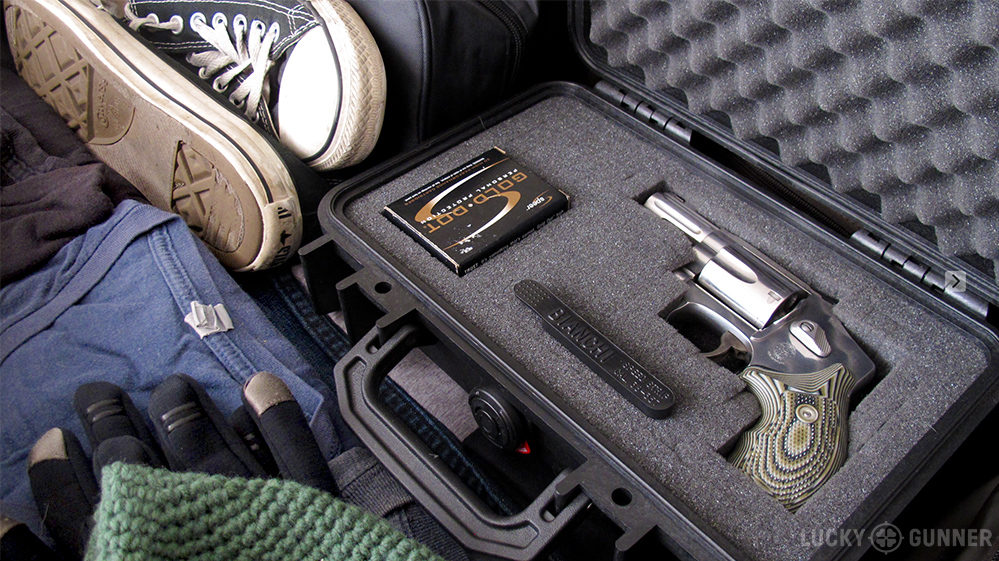 It should go without saying, but when you arrive at the airport, your firearm must be completely unloaded. Regulations also require that it be locked in a hard-sided case. Although any other locked luggage must utilize a TSA-approved lock, (that is, a lock for which the TSA holds the master key) luggage containing firearms must be secured with a non-TSA lock. The regulations specify that only the passenger may be in possession of the key or combination, and using a TSA lock would circumvent this. If you are thinking about going cheap with the "hard-sided case" – don't. The TSA rule, and the rule of nearly every airline, state that locked cases that are easily opened will not be permitted. That blue box from S&W sure is pretty, but it wasn't built for security.
You should look for a case that accepts at least two padlocks. Many of the cheap, flimsy hard-sided cases you can purchase at big-box retailers will accept only a single padlock in the center of the case. Because this allows the case to be pried up at each end, making it possible for items to be removed, if you'll pardon the pun, these cases won't fly. A case with two padlocks is more secure and can deter theft. Remember, the firearms that you are traveling with are your investment and your responsibility. Theft by TSA agents and airline employees is possible and has happened, and you don't want to spend your trip stressing about getting your stolen firearms back. Because you must place the bag and its contents into their hands, you can only do so much. But, you should do all you can. Use a good case and good padlocks.
You have two really distinct options for cases in which to lock your gun. The first option is probably a little less secure but a lot more discrete, the "hidden-in-plain-sight" option. With this option, you place your firearm and ammunition in a small locking case and put that case into your regular suitcase. The downside is that if someone opened your suitcase, they could easily remove the smaller handgun case without interfering with the bag's audit trail as it is scanned en route to your destination. The airline would have no way to track such a theft. A great way to prevent this is to use a cable lock to secure the smaller case to the frame of your suitcase so it can't be easily removed. This is possible with many suitcases, especially if you're willing to do a little modification to that silky liner inside the case. It doesn't take much – just enough make it possible to slip the cable behind the frame of the telescoping pull-handle.
The second option is to lock your entire hard-sided suitcase. Instead of placing a smaller case inside my checked bag, I sometimes travel with a large Pelican case as my suitcase. This lets me transport as many pieces, parts, and gadgets I want, all with in the big, locked container. Of course, if you travel with long guns, this is your only option. The downside is that it is pretty obvious your case contains firearms. While it is probably harder for someone "behind the scenes" at the airport to walk away with an entire suitcase, it would also be easy for someone to grab it off the baggage carousel and walk away with it. When I travel with a gun, I always try to get down to baggage claim as quickly as possible and always inspect my bag before exiting the airport.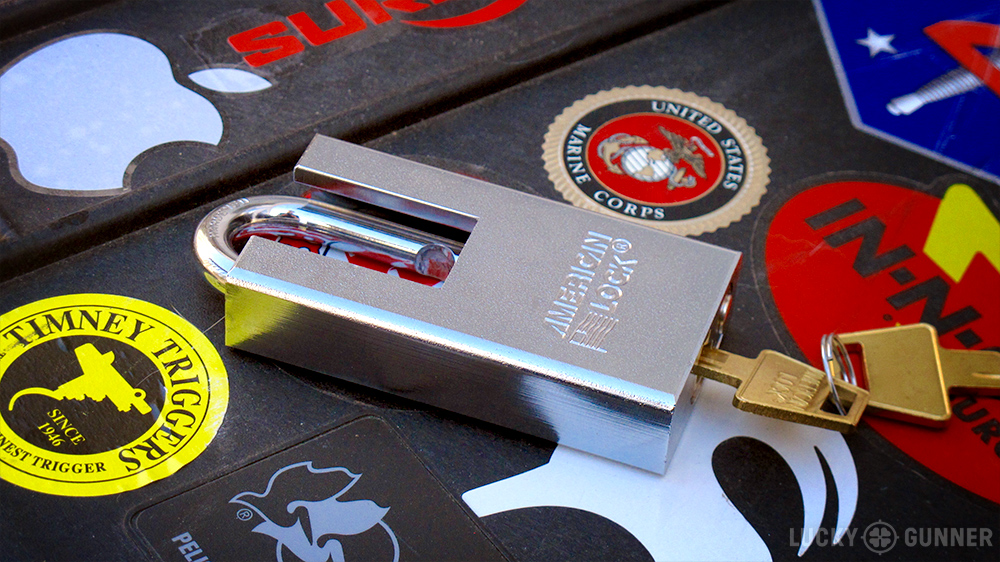 When bringing a gun for concealed carry, I usually only travel with about 20 rounds of ammunition, but TSA allows you to pack up to 11 pounds of ammo. It can usually be stored in the same case as the gun (some airlines' rules differ on this), but it doesn't have to be. However, it must be packaged properly. Leaving ammunition in factory packaging is perfectly acceptable, though if there's a chance the box could open, it's probably not a bad idea to tape the ends closed. I also like using the plastic MTM ammunition boxes sold for reloaded ammunition. Other fliers report mixed results with ammunition stored in magazines, and again, this is largely dependent on airline rules. Once your gun and ammunition are properly packed per TSA's rules, it is time to head into the airport and approach the ticket counter.
The Airline's Rules
When you get to the ticket counter to check-in, you must declare your firearm. I recommend doing so very early-on in the process. This just involves discretely letting the ticket agent know, "My checked baggage contains a firearm that I wish to declare." When you get to this stage, it is also a good idea to know your airline's rules and know them well enough to educate the airline's employees. There are a lot of myths surrounding flying legally with firearms, and I'm not going to repeat any misinformation here, but it abounds, especially by airline personnel.
Unlike the TSA rules, each airline's rules are a little different. These variations are slight but important. American Airlines, for instance, is one of the only airlines whose rules specifically forbid transporting ammunition in magazines. Prior to your trip, it is a good idea to familiarize yourself with the airline's rules. As a "just-in-case", I also print a copy of the rules directly from the airline's website. Though not common, it is not unheard of to run across a ticket agent who has never checked a firearm and has no idea what the procedure entails. Having the rules handy can usually help smooth the process a bit.
Once you have declared the firearm, you will fill out a firearm declaration form indicating that your gun is unloaded. You will then take your bag directly to a TSA agent. You will usually be asked to hang out while the bag is x-rayed, just in case it needs to be opened for further inspection. At this stage, I have sometimes been asked to open the case and demonstrate that my gun is unloaded. Once you get the thumbs up, you can go through security and get on your flight. This definitely isn't a conclusive list, but I've linked to some of the major airlines, along with some of their peculiarities, below:
All Airlines

Customers checking firearms MUST be 18 years of age or older
Firearm must be unloaded, locked in a hard-sided case, and declared to airline personnel
You will be required to sign an unloaded firearm declaration

Alaska Airlines

Customers are required to present a photo ID or claim check at baggage office upon landing to retrieve shotgun or rifle cases

American Airlines

Ammunition is not permitted in magazines or "clips"
Though it is not addressed in their rules, some travelers report having to show identification to retrieve baggage (especially long-gun cases) containing firearms

Delta 

No more than four rifles or shotguns per long-gun case

JetBlue

"Ammunition must be housed in a separate container that is completely separate and distinct from the firearms locked box."
"Pistol cases may be available for purchase by cash or credit card at any JetBlue ticket counter for a nonrefundable fee of $50. Quantities are limited"

Southwest Airlines

Loaded magazines permitted but must be secured "to protect the primer"

Spirit Airlines

Ammunition not permitted in magazines
"Loose ammunition or clips will not be accepted"

Virgin America [UPDATE: Virgin America was merged into Alaska Air in 2018]
United

"Locked cases that can be easily opened will not be accepted for travel"
The Rules at your Destination
When you arrive at your destination, you usually don't have to do anything special to retrieve your firearm. Simply find your baggage carousel and wait for your bag to appear. It is extremely important that you know the laws concerning possession of firearms in your destination locale. To be frank, it probably won't matter much when you land because you will most likely just retrieve the bag and walk out of the airport. Some airlines' rules vary on this and handle bags containing firearms differently, and you may have to show an ID to retrieve luggage containing guns. However, problems can arise when you attempt to depart and declare the firearm. If you are legally allowed to possess a firearm at your destination, you shouldn't have any trouble. However, there are several well-documented cases of people who were diverted to places like New York City and had major issues when checking back in with the airline. You should always look up the applicable local laws in your destination state and city before committing.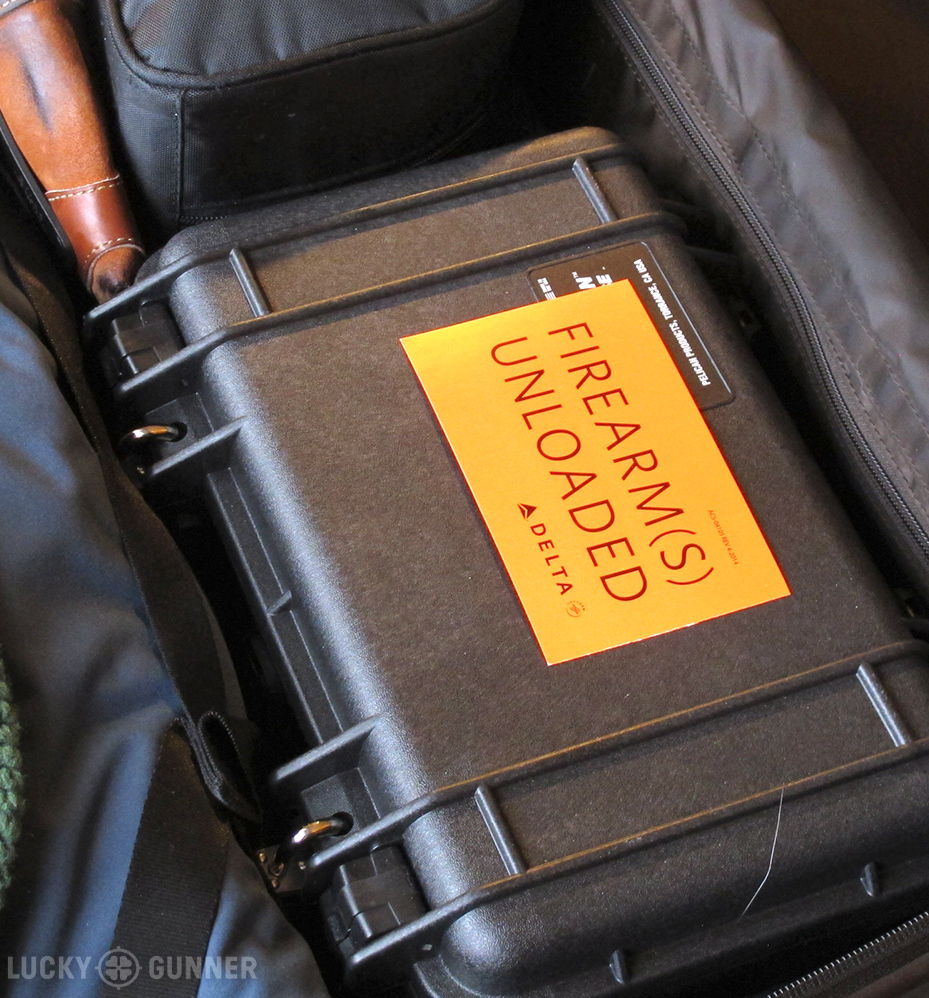 I know that sounds like a lot of stuff, so let's run through it at combat speed: lock your unloaded firearm and correctly packaged ammunition in a hard-sided case. Have TSA and airline rules printed out and ready, should you need them. Declare the firearm at the ticket counter. Accompany your bag to the TSA station and stand by while they inspect it. When you are given the thumbs up, go through security and get on your flight. When you arrive, retrieve your bag and ensure your firearm is still there. That's it!
I admit that for a quick overnighter, I sometimes elect not to bring a firearm. Baggage is expensive and takes time to retrieve on both ends. This is the result of a personal cost/benefit analysis. There are also other situations in which I don't fly with a firearm. If I have an extremely tight connection in an extremely busy city (Atlanta, for instance), I may think twice because the risk of my bag being delayed is higher. Adding a firearm into the mix would be a huge additional complication. There are also times when traveling with a firearm is just not possible, like when traveling through certain jurisdictions. However, if you travel by air, I encourage you to fly with a firearm a few times to get the hang of it. The more of us that make this standard practice, the more common and accepted the practice becomes, the more familiar airline and TSA personnel become with the process, and the better defended you and your family are on your trip.