This week, we're continuing our extended review of the Glock 43 with an update on accuracy and reliability. I tested accuracy with nine different self-defense loads, and I've been keeping up with stoppages and malfunctions. Did any of the JHP ammo make the little G43 choke? Watch the video below for the details.
Video: Glock 43 Accuracy and Reliability Report
Carrying the G43
Beyond the updates on accuracy and reliability outlined in the video, my personal subjective impressions of the Glock 43 continue to be positive. Glock triggers in general never seem to do any favors for my marksmanship ability, but the G43 isn't a bad shooter if I remember to take my time on the trigger press.
Since I prefer to carry a larger gun when I'm out and about, I've mostly been carrying the Glock 43 around my house. I've been using an appendix inside the waistband (AIWB) holster from Stealth Gear USA. It's a Kydex shell attached to a stiff breathable nylon backer. I was initially skeptical about retention with this holster, but I've been pleasantly surprised. It's extremely comfortable, and even when wrestling on the floor with my kids, the pistol hasn't budged.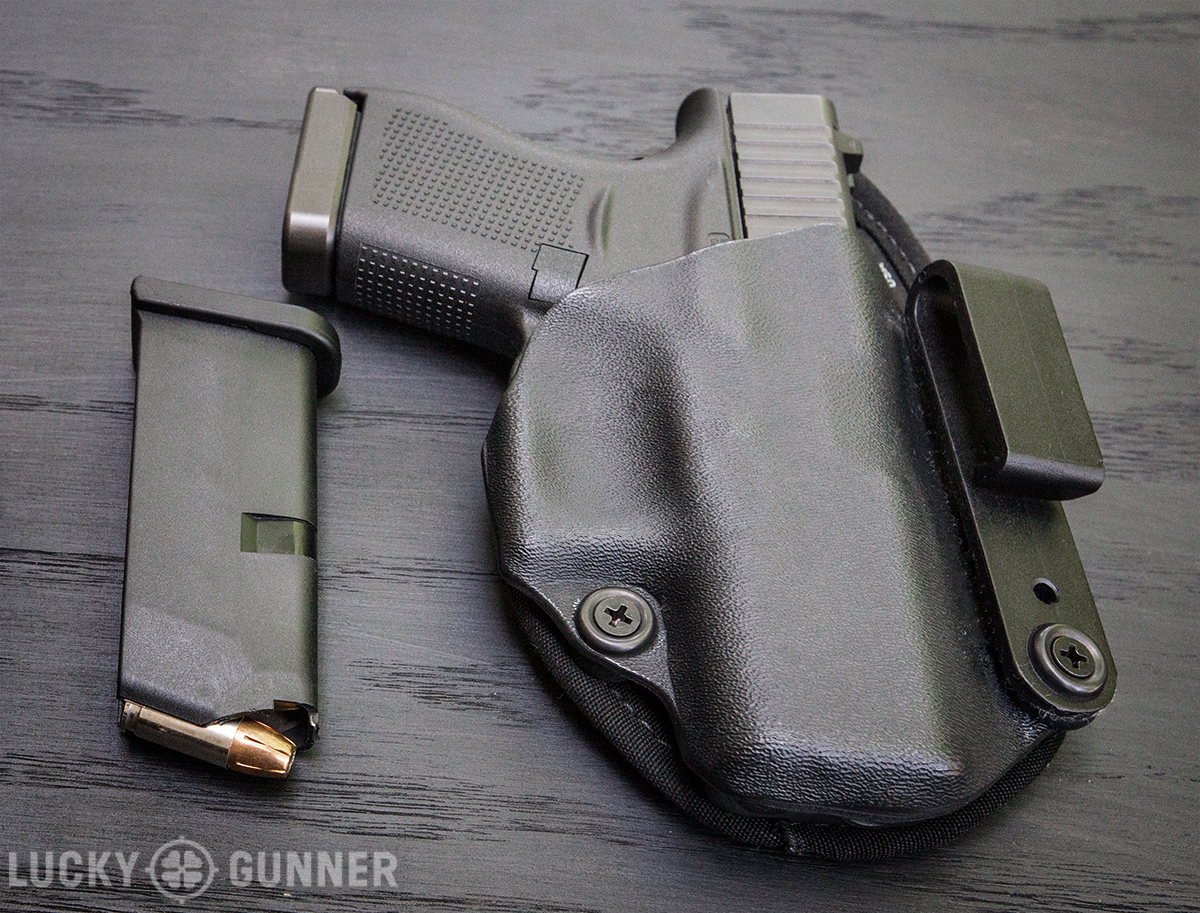 Among the online chatter about the Glock 43, there seems to be a preoccupation with the size of the pistol compared to other small single stack nines like the S&W Shield, Kahr PM9, and Springfield XD-S (just to name a few). Most of these pistols are within half an inch of each other in terms of height and overall length, and all are roughly the same width and the same weight within a few ounces. There's a possibility that these small differences could make a noticeable difference for some, but holster selection will have a far greater impact on overall concealability and comfort within this range of small handguns than the nominal difference between their respective outer dimensions.
For those in the market for a new carry gun, it seems to make sense to first prioritize and compare some of the more significant attributes of these guns; particularly, their reputations for dependable operation, and the individual's ability to shoot the gun well and handle it safely. Of course, weighing these factors is easier said than done, especially prior to purchasing. But in any case, when researching a potential carry gun, the numbers alone can't tell the buyer everything they need to know, or even the most important things.
So, if you find yourself in that position and the Glock 43 is on your short list, let me know in the comments how we can help. I've got some more mileage to put on this pistol before we wrap up the testing, and if there's anything I can look into that hasn't been covered already, I might be able to make it happen.