UPDATE 1/12/2017: Our full review of the Kimber K6s is available here.
Welcome to a very special edition of Wheel Gun Wednesday, straight from SHOT Show 2016 in Las Vegas! I'll be offering my impressions of a few highlights from the show later on, but I wanted to give some special attention to what I consider to be the most interesting new product release this year: the Kimber K6s revolver.
This small-frame 6-shot revolver from Kimber is a totally original design put together by the Kimber engineering team with input from noted wheel gun expert Grant Cunningham. This project is the first time in… well, an extremely long time that a gun maker has attempted a revolver design without ever having made revolvers in the past. It's a big gamble for Kimber, and I'm eager to find out if it pays off.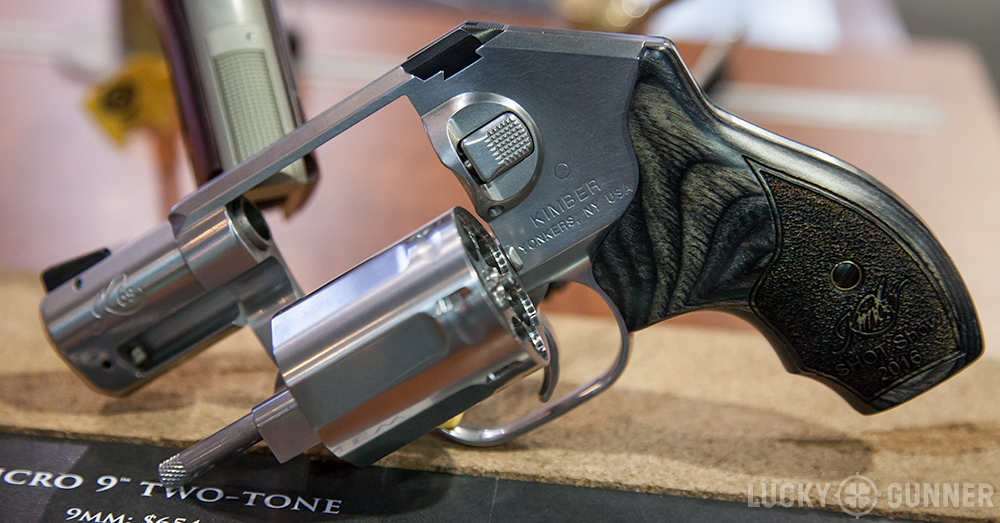 The key feature of this little .357 Magnum snub nose is the six round capacity. As I lamented in my previous posts about mid-size carry revolvers, most revolvers made for concealed carry these days hold five shots and have lightweight frames. Great for carry, but not so great for shooting, and you lose a round of capacity versus a larger revolver. A concealable 6-shot .38/.357 self-defense revolver is hard to come by. No one has really attempted it since the much-beloved Colt Detective Special, which was discontinued back in 1995. Kimber's new K6s seems to be an attempt to fill that void.
At the Kimber booth at SHOT, I got to inspect the new K6s, and also had a chance to briefly chat with Grant Cunningham and Tim Mulverhill, one of the project's leaders at Kimber. Grant seems very pleased with how the finished product has turned out. When he was advising the design team, he stressed that reliable operation should be the top priority, a point I could not agree with more. It seems the Kimber engineers were able to pull it off, and the samples I was able to handle at the Kimber booth were quite impressive.
The K6s is roughly the size of the Ruger SP101 with a slightly wider cylinder to accommodate the extra round. The trigger is smooth, breaking at about 10 lbs with a sharp reset. The overall feel is very similar to a well-tuned S&W K-frame trigger.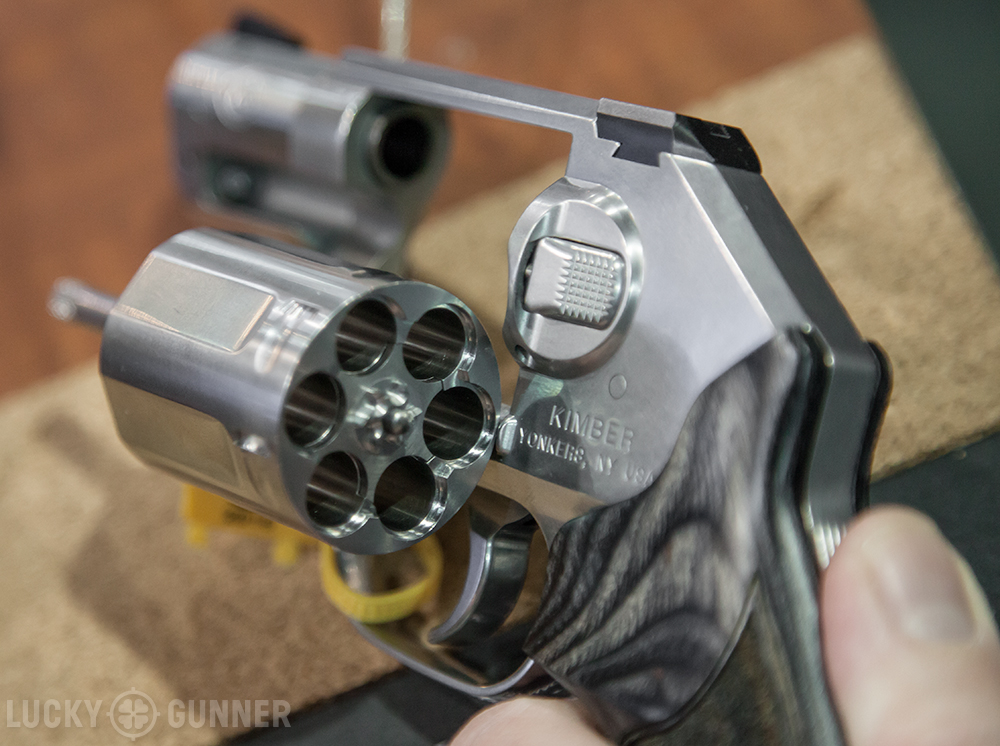 Unlike most concealable revolvers on the market, Kimber has not equipped the K6s with traditional fixed sights — typically a fixed ramp in the front and a shallow gutter on the top strap to form the rear sight. Instead, the K6s has user-changeable sights. The front is held in place with a pin and the rear sight is in a dovetail, similar to most modern semi-auto sights. The stock sights on the pistol are low-profile plain black sights, but Tim from Kimber assured me that night sights and other high-visibility aftermarket options would be available from multiple companies by the time the pistol ships. There will also be other accessories available, like holsters, Crimson Trace laser grips, and speed loaders.
Okay, so I know what a lot of you are thinking. Kimber's 1911s have a questionable reputation in terms of reliability and quality control, and some would say that's being too generous. Revolvers typically require very precise machine work in order to function properly, which is why so few companies do it well. Is Kimber up to the task? I am apprehensive as well, but I'm also encouraged by Grant Cunningham's involvement with this project. I know Grant won't be personally inspecting every revolver that comes off the line, but the design itself seems to be a winner.
So for now, I'm keeping an open mind. The K6s is projected to ship sometime around April, and I'll be first in line to pick one up and put as many rounds through it as possible.
Kimber K6s Technical Specs
| | |
| --- | --- |
| Caliber | .357 Magnum |
| Barrel Length | 2″ |
| Overall Length | 6.62″ |
| Height | 4.46″ |
| Width | 1.39″ |
| Weight (unloaded) | 1.44 lbs (23 oz) |
| Sights | black pinned front, black dovetail rear |
| Action | double action only |
| Ammo Capacity | 6 |
| Advertised trigger pull weight | 9.5-10.5 lbs |
| MSRP | $899 |
Leave a Comment Below