Over the past few months, Chris and I have been focusing on defensive shotguns by detailing things like their history, what type of ammo to use, and how you can go about configuring your own. While setting up your defensive shotgun almost from the ground up can be a lot of fun, it's by no means the only way to own an effective home defense gun. Some factory guns offer a host of sensible, premium features right out of the box, and one such gun is the Mossberg 590A1 Magpul Series*.
About the 590A1
As I mentioned in my previous article about Mossberg defensive shotguns, the 590A1 series models are Mossberg's top-of-the-line tactical shotguns with many in service with the Department of Defense and law enforcement departments across the nation. Designed to meet military requirements, the 590A1 seeks to be tougher than any other pump-action shotgun on the market and to provide unwavering reliability and durability under a variety of environmental conditions. It does this by incorporating all-metal construction, a heavy, thick-wall barrel, and a tough parkerized finish combined with Mossberg's tried and true model 500 pump action design. Many Marines, soldiers, and patrolmen can attest to this gun's effectiveness in the line of duty, which makes the Mossberg 590A1 a very appealing choice for the home as well.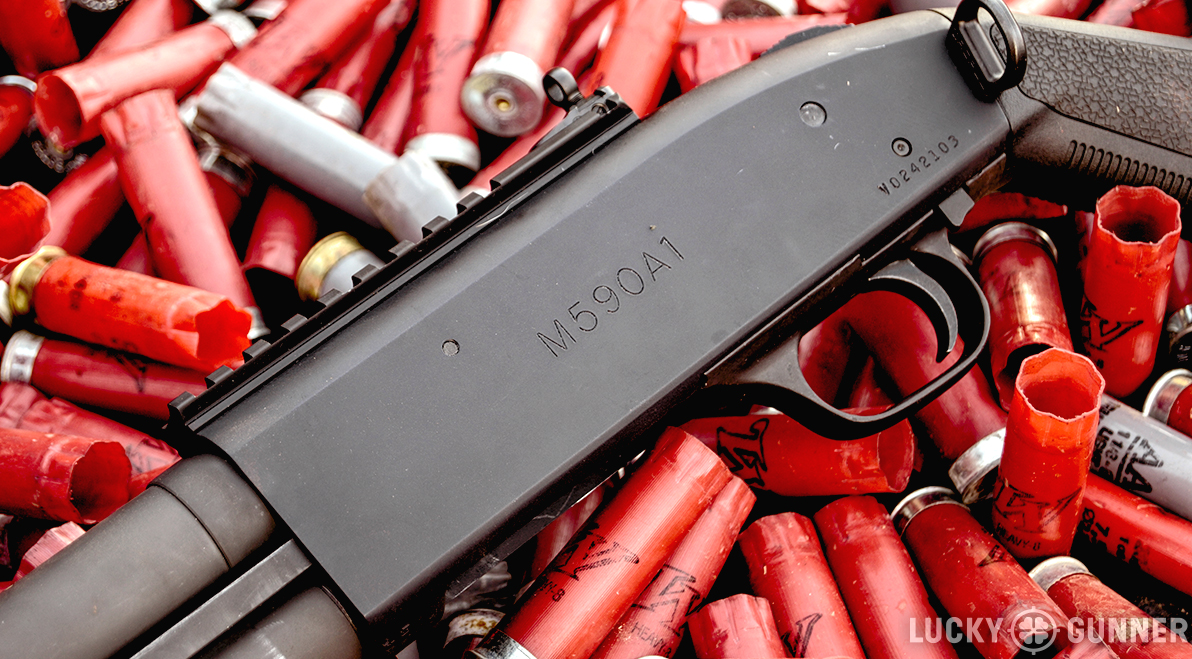 Mossberg 590A1 Magpul Series Technical Specs
| | |
| --- | --- |
| Barrel Length | 20″ |
| Overall Length | 39.5″ |
| Caliber | 12 Gauge |
| Choke | Cylinder Bore |
| Weight | 7.25 lbs. |
| Optic Mount | Drilled and tapped for picatinny rail (included) |
| Sights | XS Ghost Ring rear, white blade front |
| External Safety | tang-mounted |
| Ammo Capacity | 8+1 |
| Stock length of pull | Adjustable (12.25″-14.25″ with spacers) |
A Closer Look
While the model I evaluated utilizes the same core components of the military's 590A1, it also boasts some very thoughtful extras. The most obvious, and in my opinion the best, part of this setup is the Magpul SGA stock. Being able to quickly adjust the gun's fit to my body as well as to using iron sights or an optic was simply wonderful. There's nothing worse than paying a premium for a high-end gun and still having to "make things work" when it comes to cheek weld with optics or length of pull. Fortunately, the SGA stock makes it easy to obtain not only a comfortable gun fit but a functional one as well.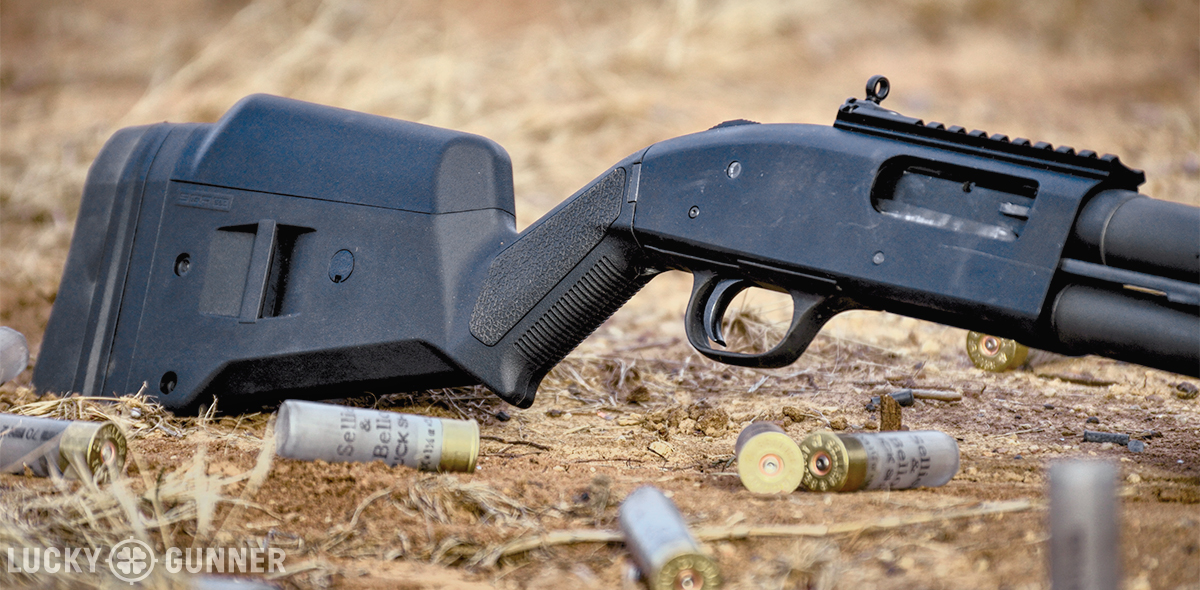 Another awesome addition to this gun were the XS Ghost-ring sights. While Mossberg does offer its own style of aperture sights on many of their guns, I preferred the XS sights for their low-profile, minimalist construction and their ability to be used in conjunction with an optic. The obvious concern for these sights upon initial inspection was that the unprotected rear sight might be snapped off. However, the all-steel construction seems to be durable enough that this is not a substantial liability. The sights were close enough for my purposes out of the box given that I was switching shell types constantly, but zeroing is simple should fine-tuning be required for your preferred ammunition type.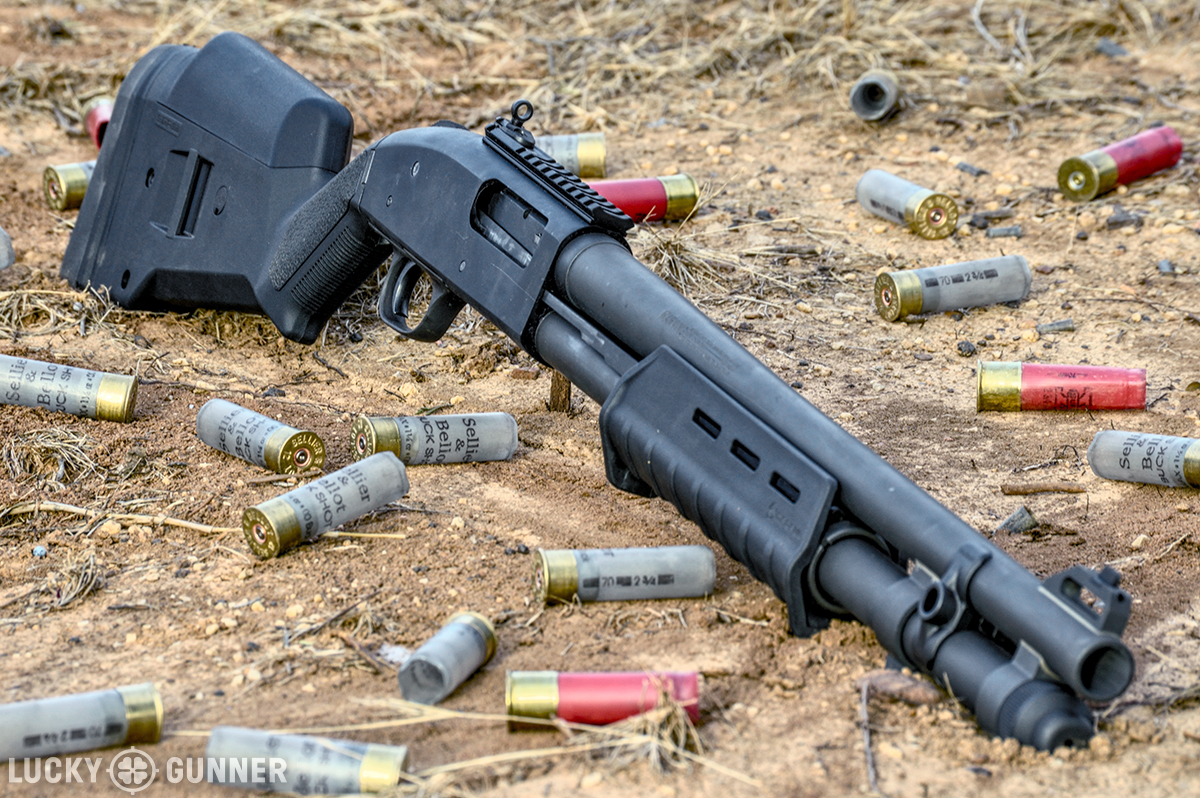 The gun also shipped with a plethora of sling mounting options. Rear attachment is possible either from the SGA stock itself or the included single-point mount at the rear of the receiver. Up front there was a removable side-oriented sling mount, and, of course, the magazine cap is threaded to accept a sling stud as well. I'm not personally a huge fan of slings on pump-action shotguns due to freedom of movement concerns and the fact that I don't have to carry one around all day, but it's always nice to have a choice in the matter.
Range Performance
I put our test gun through its paces on the range with a mix of buckshot, slugs, and target loads to see if this gun was really the out-of-the-box defensive rock star it appeared to be. I also put the gun in the hands of some other shooters of varying skill levels to see what issues might arise.
In short, the gun ran flawlessly. There were no malfunctions or parts breakages of any kind even after dragging it through the dry Oklahoma dust. Initially, I had some misgivings about the ability for dirt to accumulate in the open receiver, but the Mossberg's lack of a loading gate is great at preventing debris from becoming trapped inside the gun. Shaking or firing the gun was sufficient to dislodge any foreign matter from the working parts, and the gun was able to keep chugging right along.
The action won't compete with grandpa's old Wingmaster, but the stroke was smooth and secure-feeling which is to be expected on a fresh duty gun like this. While Mossbergs are generally quite good about loosening up after moderate use, I suspect the parkerized finish present on 590A1s may extend the break-in period somewhat. In any case, this gun presented no cycling issues for any of our shooters.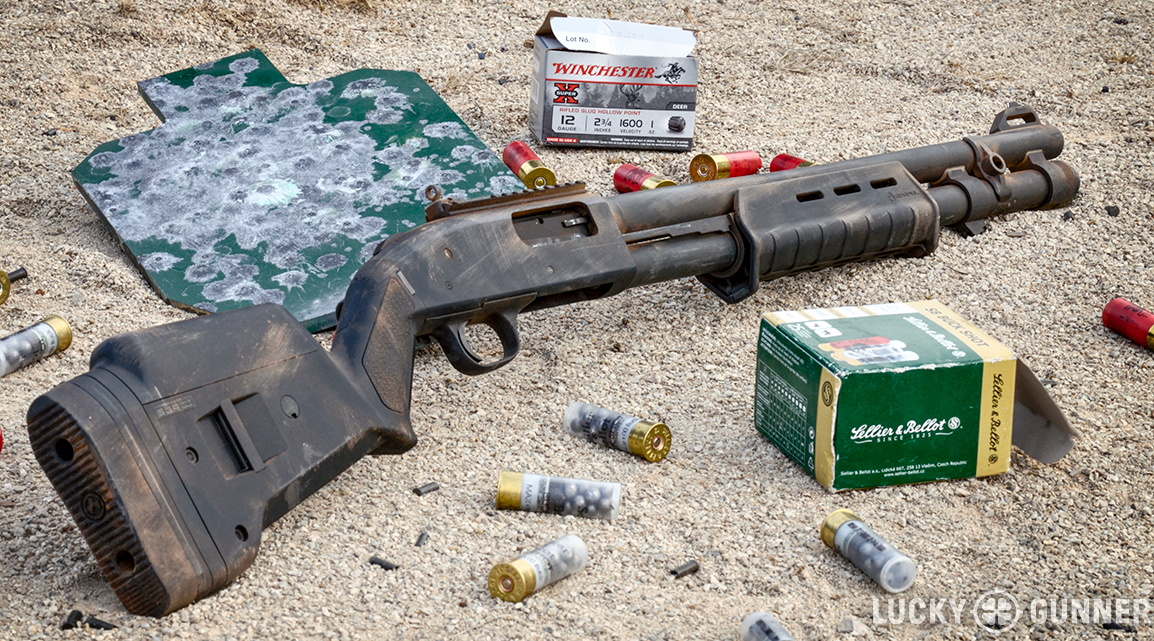 A variety of shells were run through our gun ranging from 1oz birdshot loads all the way to 3" magnum 00 buck. I'm not typically a proponent of describing the severity of felt recoil as it is mostly subjective, and, for the most part, any 12-gauge pump shotgun is going to recoil about the same with a given load and overall gun weight. What I will say, however, is that the SGA stock allowed for a good fit and a nice aggressive posture to help overcome the recoil impulse between shots, and the combined front-end weight of the heavy 20" barrel and full 8-shot magazine tube did seem to help keep the muzzle down during rapid fire.
Another benefit I noticed during rapid fire drills was that the shape of the Magpul forend acts as a sort of heatshield by covering the bottom half of the barrel. While the heavy barrel is slower to heat up than a standard barrel, it is also slower to cool down, and, with the ability to fire nine shots before reloading, you may end up storing a substantial amount of heat in the barrel during a range session. Additionally, the forend is nicely contoured with subtle hand stops front and rear to prevent your hand from sliding off of it. Magpul's forend also accepts M-LOK attachments such as rail sections and grips.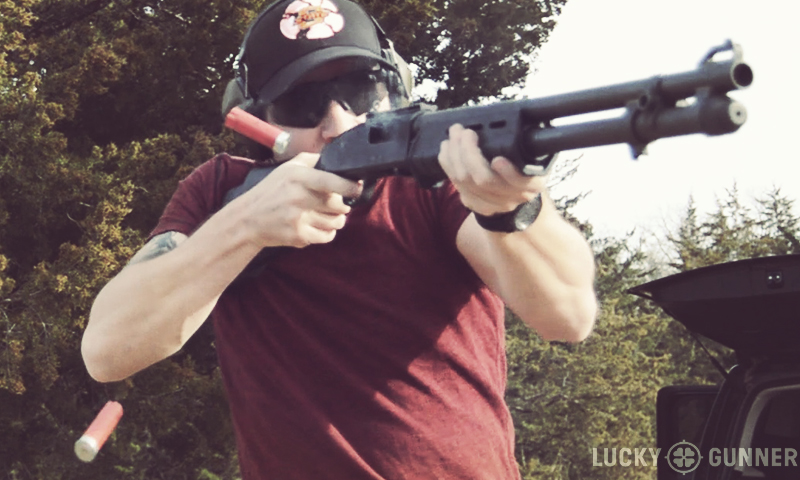 Final Verdict
Overall, the 590A1 proved to be a very reliable and capable shotgun. Given Mossberg's reputation and history of making pump-action shotguns, I can't say I was terribly surprised. What I didn't expect, though, was how much I found to like about this particular setup and the functionality it offers right out of the box. Half of the things that made me think, "Wow, that's nice!" didn't reveal themselves until after I had put a few boxes of shells downrange on the skeet field and square bay.
There's a lot to enjoy here, and I think that's the result of a few different companies doing what they do best in one elegant package. Magpul's clever function-packed designs meet the durable and intuitive XS sights on a proven, battle-tested design and industry-leading shot capacity. What's not to love?
* Editor's Note: Just prior to publication, we found out that as of 2016, Mossberg no longer offers this model as an option from the factory. The closest model in current production is the 590A1 Tactical with XS Sights (model #51771), which is identical to the model reviewed here, with a few exceptions: a generic synthetic stock in place of the Magpul SGA stock, a railed forend in place of the Magpul MOE forend, and no forward or rear sling mounts. Kyle and I were both disappointed to learn about this change in the Mossberg lineup, but fortunately the Magpul stock set is still widely available and easily installed by the user. The Magpul stock and forend can be purchased directly from Magpul for $140 for those wishing to duplicate the setup in this review.
-CB