The new Wilson Combat EDC X9 is an alloy-framed compact double stack 9mm that's based on the 1911. But when you deviate from the original 1911 frame material, barrel length, and caliber, and then completely redesign the grip dimensions and remove the grip safety, what you end up with is not simply another 1911. It's more like what would happen if you gave John Moses Browning some 21st century manufacturing equipment and asked him to build a Glock 19.
You can watch the full review video below, or scroll down for the blogified version of the transcript.
Is it any good?
Even though I like 1911s, it's been quite a while since I spent any serious time shooting one. So, I think the EDC X9 is pretty good, but that probably doesn't mean a whole lot coming from me. Fortunately, you don't have to take my word for it. I was able to try out the EDC X9 a few weeks ago when I met up with John Johnston for a day at the range. John is the host of Ballistic Radio and Wilson Combat happens to be one of his sponsors. John has been evaluating a pre-production sample of this pistol for the last few months and had some insights to share:
"As far as performance goes, the main thing I'm seeing out of the EDC X9 is that I am able to shoot it as if it were a much larger gun. By getting rid of the grip safety, what it allows you to do is get higher on the gun so that you can shoot it better. It's more controllable and it's, in general, more pleasant to work with, especially at speed.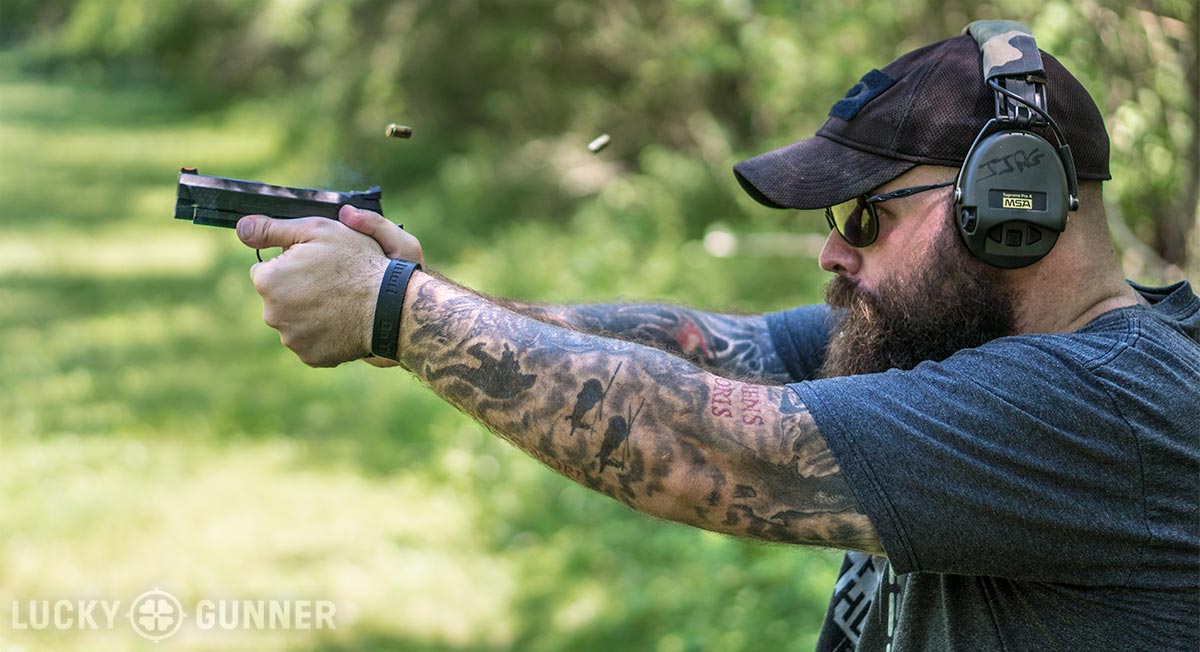 "If you're looking for a gun that fits inside of this package, you're looking at stuff like a Glock 19 or a Sig P320 or somewhere in that range. The Wilson EDC X9 fits into that G19 size package and performs better, period. And to get a G19 or a 320 that works as well as this does, you have to work on it. You will start adding parts like a match-grade barrel that's professionally fit to get the inch and a half at 25-yard accuracy guarantee that this thing comes with. To get the recoil characteristics, you're starting to add comps. To get the grip ergonomics you're stippling the gun and you're recontouring it and reprofiling it. That starts to cost money. You see people running around with 2 and 3 thousand dollar Glocks and this comes with all the function of those right out of the box."
For what it's worth, I tend to agree with John on those points. The recoil is much milder than you expect with a gun of this size and weight and when you combine that with a light and crisp 1911-style trigger, it's easy to run this gun faster than other compact 9mms.
How big is it?
The comparison to the Glock 19 is no exaggeration. It's tough to appreciate just how compact the EDC X9 is until you handle it in person. Fully loaded with 16 rounds, it's only 5 ounces heavier than the Glock, and roughly the same size in all dimensions. Compared to a 9mm lightweight Commander 1911, the EDC X9 is smaller, and still has 6 more rounds of ammo on board, and far superior ergonomics.
Compact 9mm Pistol Size Comparison
Model
Wilson Combat EDC X9
Glock 19
Sig Sauer P320C
Colt LW Commander
capacity
15+1
15+1
15+1
9+1
weight unloaded
29.09 oz
23.7 oz
25.8 oz
29.4 oz
weight loaded
35.04 oz
30.18 oz
32.68 oz
36 oz
barrel length
4″
4.01″
3.9″
4.25″
overall length
7.4″
7.36″
7.2″
7.75″
height
5.25″
4.99″
5.3″
5.5″
width
1.4″
1.18″
1.4″
1.25″
John believes the EDC X9 is reminiscent of another famous John Browning design. "The grip reminds me a lot of a Browning Hi-Power grip. It's very ergonomic, it fits really well in the hand. It's got the best parts of the 1911 as far as the sliding trigger, a really well designed manual safety inside of a very small package as far as a grip that's really easy to conceal. It's kind of like a Hi-Power that's had the stuff that makes Hi-Powers not fun taken off of it."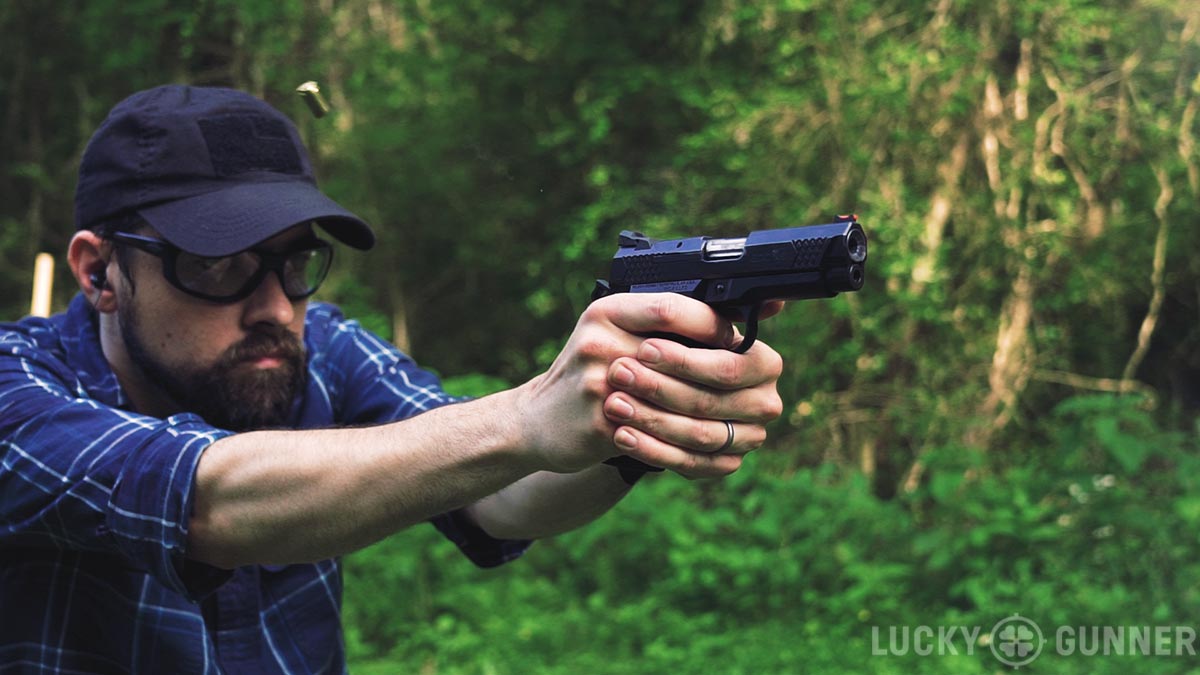 Because of the double stack magazine, the grip has to be wider than the original 1911 design, but only slightly, thanks to the slim screwless grip panels. The grip is also shorter from front to back because it's designed around the 9mm, which is a shorter cartridge than the 45. So even with a 15-round magazine, the overall grip circumference of the XDC X9 is actually smaller than the 1911's. That means the trigger reach is a little shorter and the pistol will probably fit better in the average person's hand.
The slide and the portion of the frame that's forward of the grip are close enough in size and shape to 4 and 4.25-inch 1911 pistols that most holsters designed for those guns will fit the EDC X9. The new pistol also shares parts compatibility with several traditional 1911 parts, including wear parts that must be periodically replaced like the recoil spring.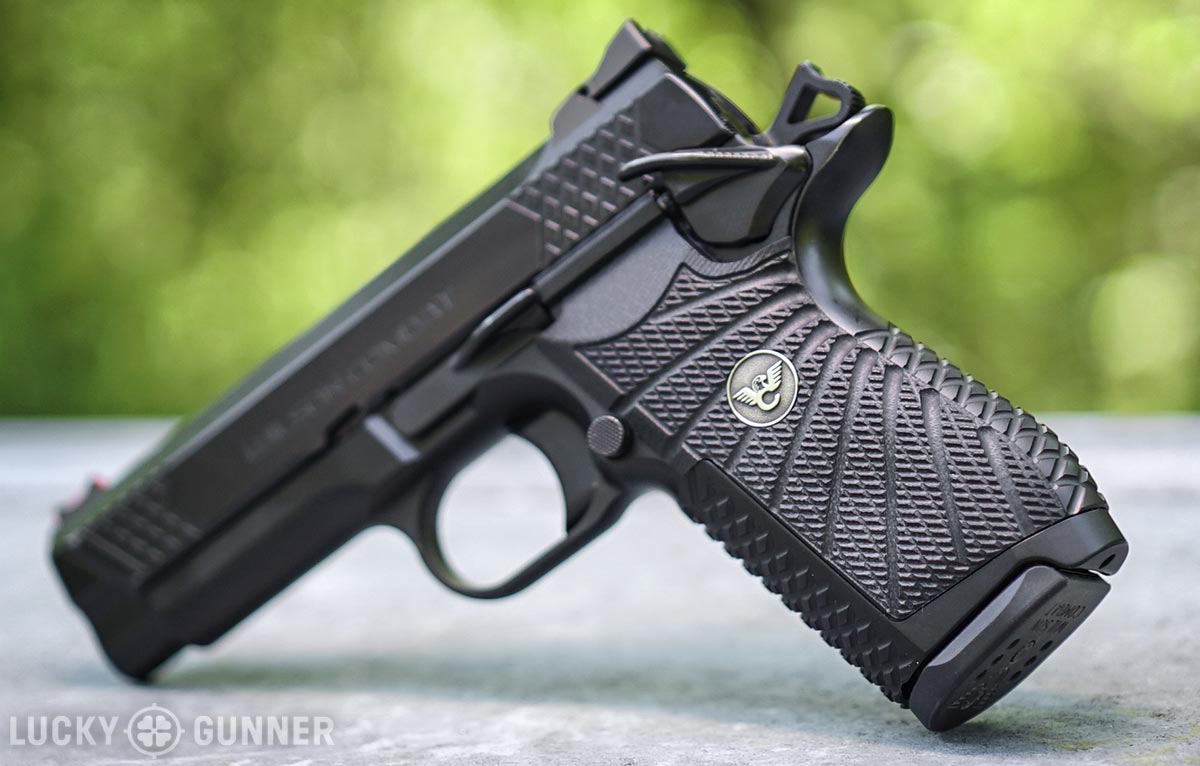 Is it reliable?
Keeping in mind this is only a sample size of one, the EDC X9 John has been testing has been problem-free. "Once we're done today, I'll have about 3000 rounds through it. So far, it has been extremely reliable. Actually, it's been reliable with ammo that won't work in other guns — like Glocks that I have — where the round is loaded weird or it's too light of a load, this thing will feed fine. But it also works really well with standard carry loads like 124 grain +P Gold Dot or Federal HST. It's been reliable with a wide spectrum of bullet weights, velocities, and profiles. I've been really impressed so far."
As of this week, John says he's got about 4500 rounds through the gun, still with no malfunctions to speak of. Traditional 9mm 1911s have a reputation for being picky and high maintenance, but Wilson seems to have eliminated a lot of those issues by designing the EDC X9 from the ground up to reliably feed the 9mm cartridge.
Is it accurate?
Like John mentioned earlier, the EDC X9 comes with a 1.5-inch accuracy guarantee at 25 yards. That's using a Ransom machine rest, but we wanted to see what we could do with a normal bench rest and some sandbags. We fired a few 5-round groups that were about 2.5 inches, but three of the five rounds would be within an inch or an inch and a half. That usually means the two fliers are human error, so I have no doubt the gun is capable of shooting 1.5-inch groups.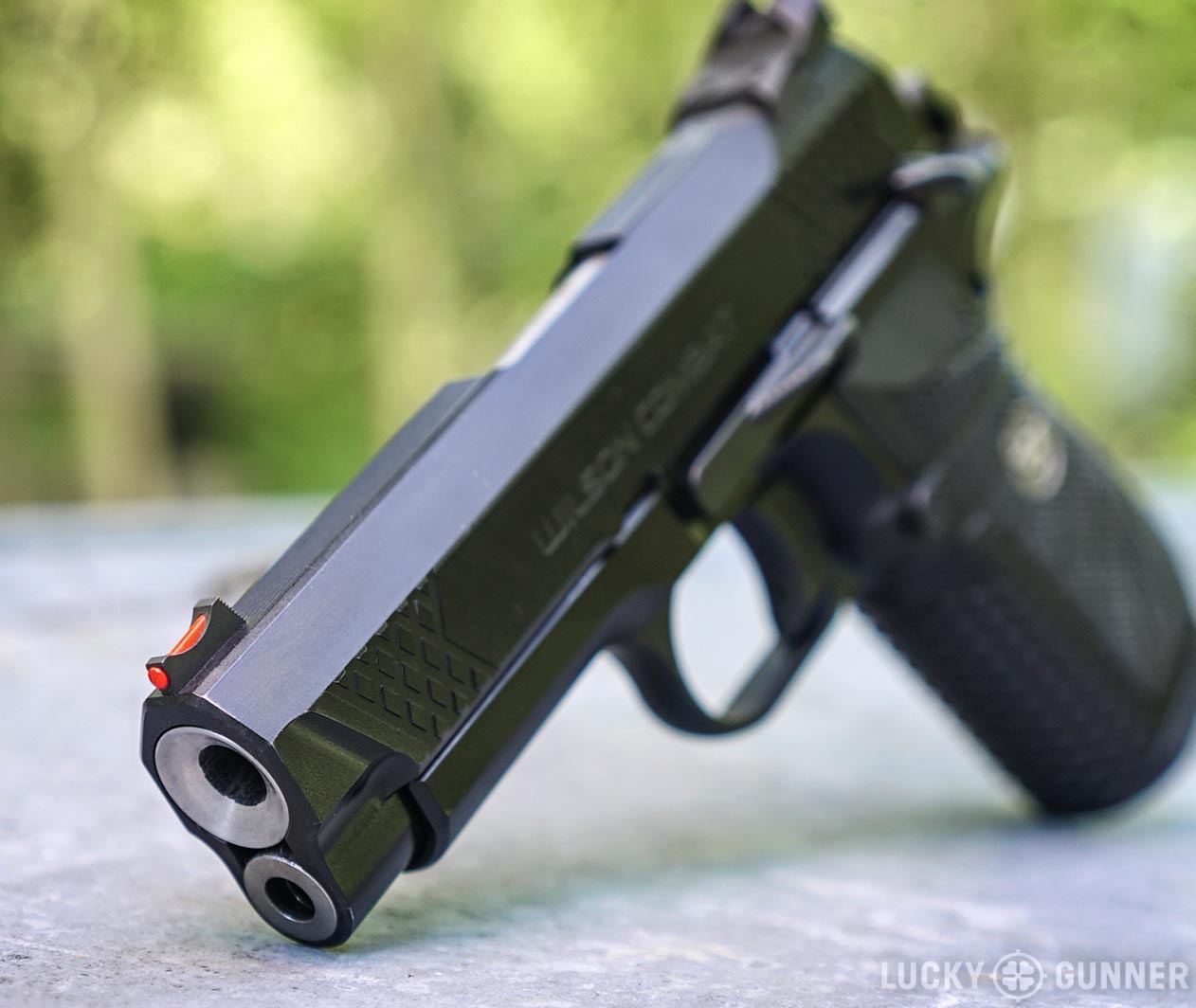 From a more practical standpoint, having a good 1911-style single-action trigger certainly helps when you need to take a shot at longer distance. The front sight is a little wider than either John or I prefer, and I think that makes it tough to get a clean sight picture on smaller targets, but that really comes down to personal preference. It's not any wider than the stock front sight on most compact handguns.
The pistol we used was equipped with a red fiber optic front sight and an adjustable u-notch "Tactical Battlesight" rear sight. Every EDC X9 is made to order, so if you don't prefer those sights, you can get a green fiber optic, or you can choose a tritium or gold bead sight. Wilson also gives you the option to choose from two different size backstraps, three different trigger lengths, a variety of finish options, and you can get it with or without an ambidextrous safety or a light rail.
How much does it cost?
The base price is $2895, but some of the previously mentioned sight options add a couple of dollars to the cost.
Why do I need a $2900 pistol?
To be completely honest, I kind of hate this question. But it always comes up any time we talk about a gun with a four-digit price tag. So… I'm just gonna let John answer this time.
"Why does somebody need a $2900 pistol? You don't. Period. You really don't need much more than a… Ruger P89. That'll work fine most of the time. It launches the same bullets. If we were only going on need, we'd all be driving around in Kias. $10,000 Kias that are not fun to drive, are not comfortable to drive, but they get us from point A to point B. So when people start talking about, 'Well I could buy five Glocks for the cost of this.' Well, yeah, the guy who buys the Corvette could buy seven Kias. He's not going to drive the other six at the same time and it's not going to perform the same way the Corvette does. So if it makes you happy and you can afford it, then do it. If you can't afford it, or it doesn't make you happy, then don't do it. It's really that easy."
For more details on the EDC X9, head over to Wilson Combat's site.