If you're looking for an objective and unbiased evaluation of the new Beretta 92 Elite LTT, this isn't it.
There seems to be a common assumption that a good product review is one that approaches its subject from a completely neutral and objective point of view. Except that's not really possible. I think the best reviews usually come from someone who has a lot of experience with other products in the category they're reviewing. And along with that experience, one tends to also develop some biases, whether conscious or sub-conscious. The best we can do is try to recognize those biases whenever possible and try to give every product a fair shake anyway.
When it comes to the Beretta 92 Elite LTT — the latest collaboration between Beretta and Ernest Langdon — I have to admit that my biases here are stronger than normal, and regular readers here will understand why. If you're not a regular reader… well, watch the video and it will make sense. Or, as always, you can scroll on down and read the full transcript.
---
How about a 92-series Beretta with a Vertec-style slide so it's got the dovetail cuts for front and rear sights with an M9A1 style frame so it's got the front and rear backstrap texturing and a beveled magwell? Then add the Elite-style barrel that's a little shorter and more accurate than the standard barrel and throw in a target crown for good measure. That's a decent start. Now make sure it's got the new G-style decock-only levers that can be converted back to the original F-style safety if you want, an oversized magazine release, fiber optic front sight with a square notch serrated rear, front cocking serrations on the slide, extra slim G10 grip panels, and a steel guide rod.
That is the Beretta 92 Elite LTT and it's the best production 92 series pistol ever made.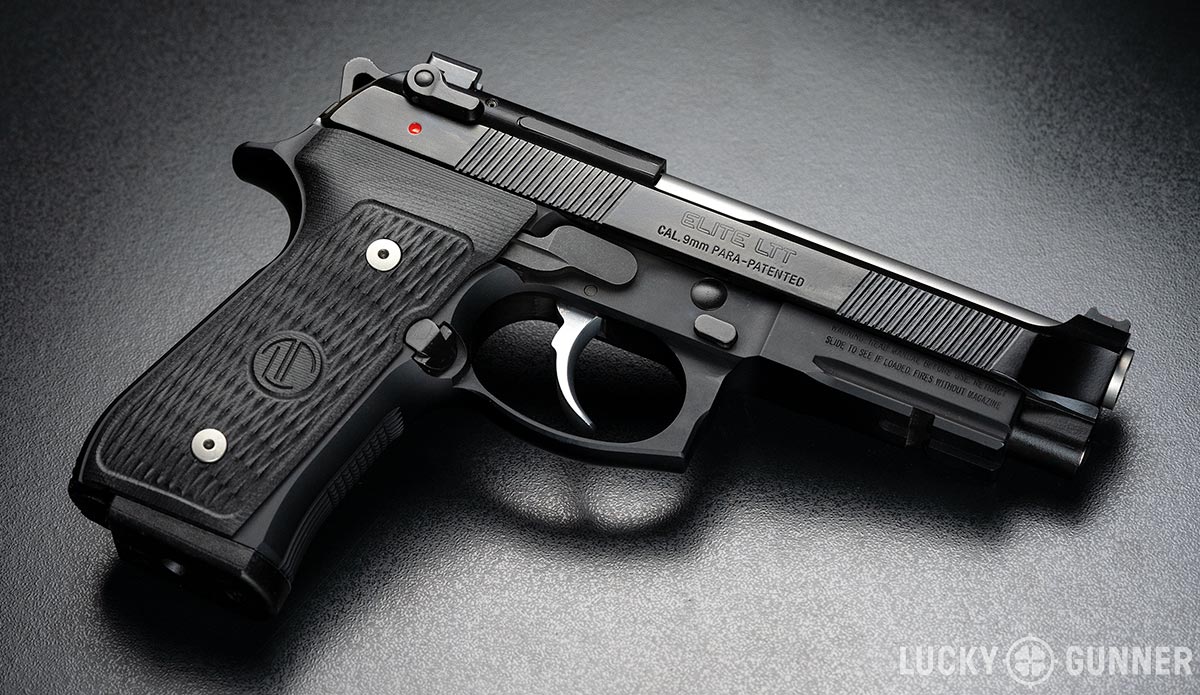 The "LTT" stands for Langdon Tactical Technologies because these pistols are made by Beretta in partnership with Ernest Langdon. This is not the first Beretta variant Ernest has had a hand in but it is the first to combine this specific set of features that Ernest and other long-time fans of the 92 have been looking for.
Now I know what some of you are thinking right now: There is no way I can do an impartial review of this gun and you're probably right. I am a shameless fan of Beretta 92s and I know Ernest. I've trained with him. I've talked about how he's one of the people responsible for my partiality toward DA/SA pistols. My favorite compact 9mm is the Beretta PX4 Compact Carry, which Ernest also made happen. If there is anyone I would trust to design and configure the ideal Beretta 92, it would be Ernest Langdon. So I can't claim to be impartial about the 92 Elite LTT. But for those of you who might not know who this guy is or why you should care that this gun has his name on it, I can try to give you some background.
Ernest first got a little trigger time with the Beretta 92 starting with his 12-year career in the Marine Corps. Not too long after, he was one of the first guys to compete using a Beretta in a brand new action pistol league called IDPA. Winning matches with the 92 he tuned and customized himself led to an official Beretta sponsorship and before too long, his fellow competitors were asking Ernest to work his magic on their Berettas, too.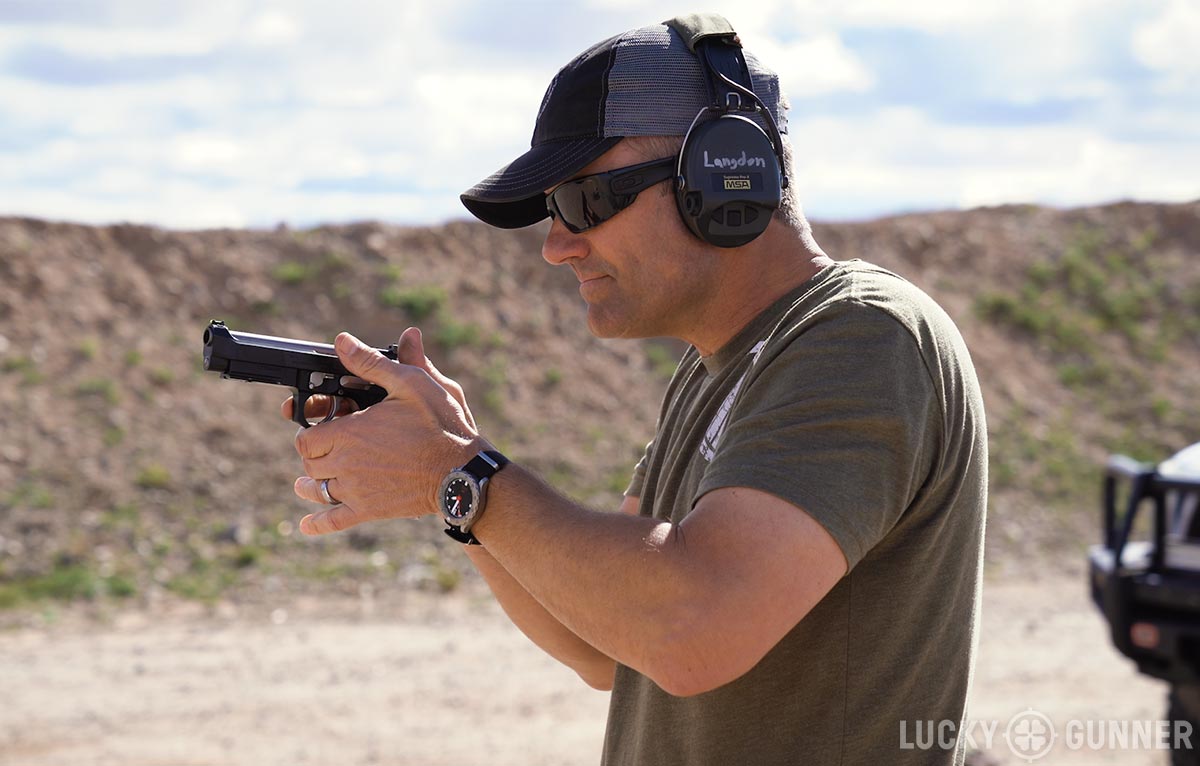 Fast forward a few years and Ernest has several national championship titles under his belt in IDPA and USPSA. He's won a reputation as a respected shooting instructor and he's a highly sought-after pistol-smith. In fact, when Wilson Combat decided to start offering custom 92s, they recruited Ernest Langdon to help train their staff. If anybody knows how to get the most out of the Beretta 92 platform, whether it's for fighting or winning trophies, it's this guy. So when Ernest refers to this gun as "the ultimate 92," that's not just marketing speak. A lot of attention has been paid to small details that serious shooters can really appreciate.
For example, the bottom corners on the back of the slide here have been rounded off so it won't cut you if you have large hands and you like to grip the gun high. The bottom edge of the trigger guard has been beveled on both sides to help alleviate that shooters knuckle callus we all get from long days at the range. If you plan to spend a lot of time with one particular gun, these are the kind of small but important practical modifications you might be willing to pay for in a fully custom pistol. But the Elite LTT is a production gun that's very much like a custom pistol, just without the custom price tag. Right now, they typically run just under $1000 and that's a very competitive price compared to other premium 92s and high-end production pistols in general.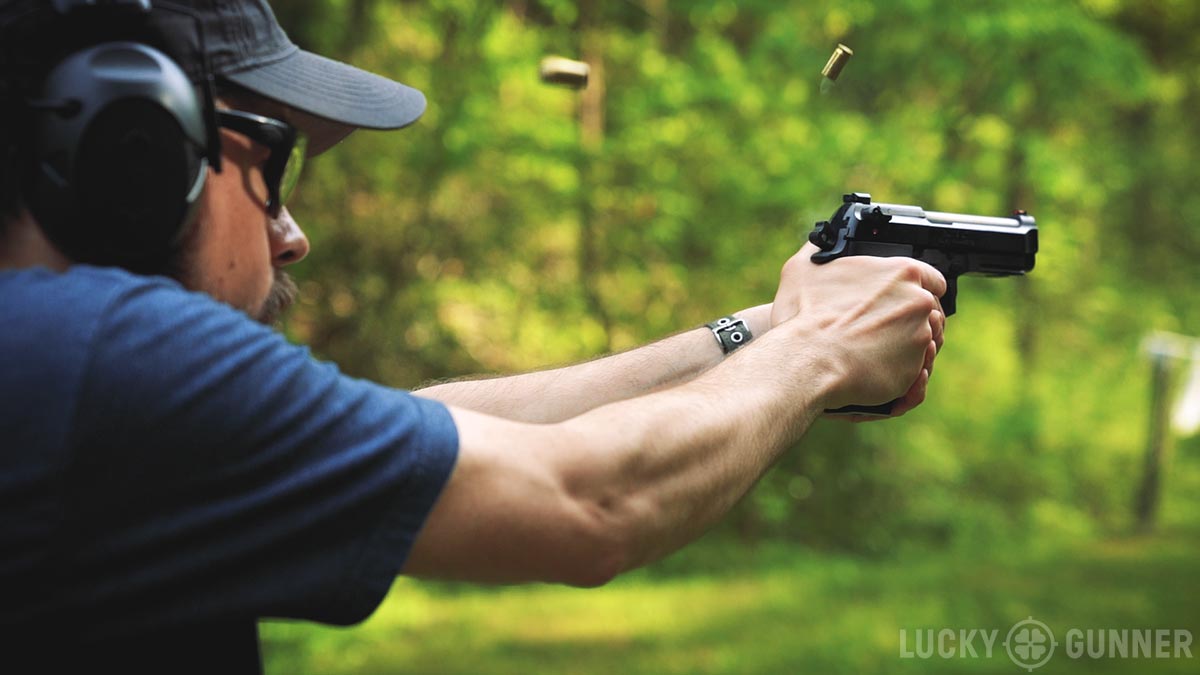 There are a lot of places you can buy the Elite LTT, but I would suggest ordering one directly from Langdon Tactical Technologies because that way, you can add some optional modifications like night sights or a trigger job. I've mentioned before that Wilson Combat does very nice trigger work on the Berettas but Ernest is really the master for this platform. In particular, the double action on these guns is unbelievably smooth. Of course the single action is nice too, with a little bit of takeup and a clean break. I measured the double action at 8 pounds and the single action at about 4 and a half. That's lighter than the factory trigger but still well within the bounds of what's reasonable for a duty or self-defense gun. If you want to go all out, though, you can also order it with the dehorning and carry bevel on the frame and slide and the NP3 electroless nickel finish on all the controls and internal parts. That finish basically minimizes all the friction between the parts and… you have to just shoot one to appreciate it.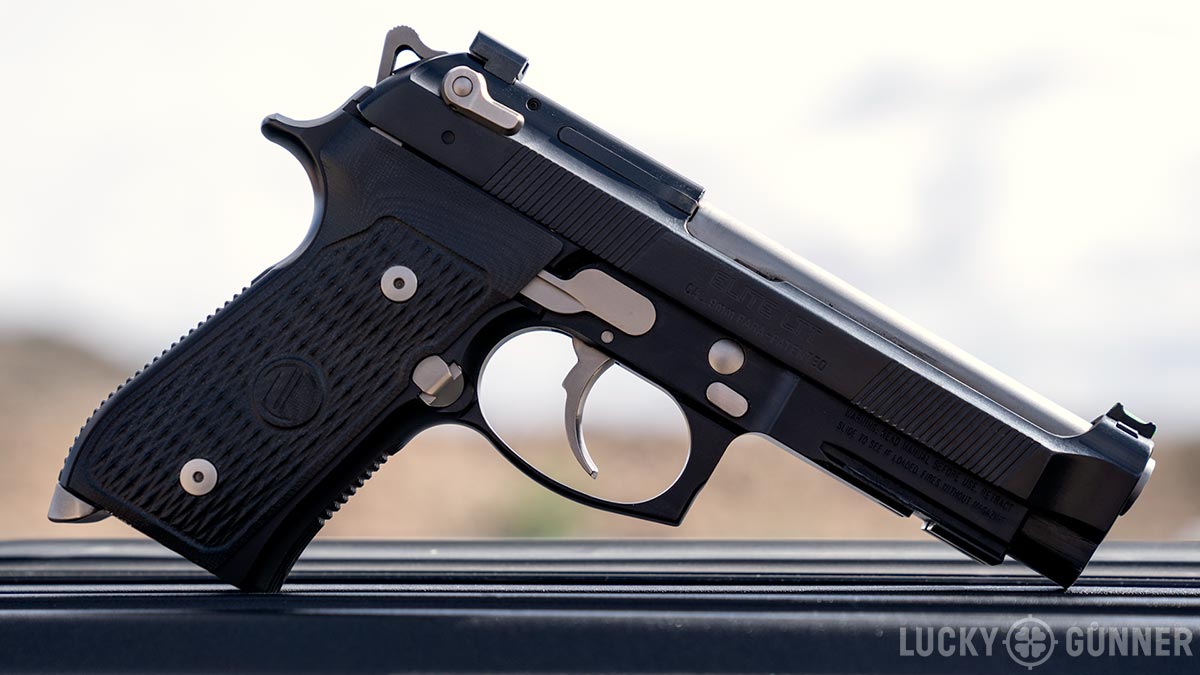 This particular gun just has the standard Langdon trigger job and it's still a fantastic shooter. I've got a little over 3000 rounds through it including a couple of high round count training classes. No failures or malfunctions so far. I've set a few personal records on some drills with this gun. Just recently I started using it with this appendix holster from Dark Star Gear. It's called the Orion and it will fit most 92 series pistols. I don't carry a full size pistol very often, but this holster makes it a little easier than most others I've tried. It's got this little attachment on the side they call the Dark Wing. It pushes against the belt and rotates the butt of the grip in toward the body to prevent printing. Lots of other appendix holsters have attachments like this but for a gun this size, the Dark Wing seems to be a little more effective for me.
Langdon chose this fiber optic front sight with the black rear partly to help down the retail price of the gun. And even though they wouldn't be my first choice for a self-defense pistol, they're great for the range. The front sight is relatively narrow at .110 inches wide making it ideal for precision work, which is something this gun is really good at. I've had some fun with it on our steel silhouettes from about 60 on out to 100 yards. From the bench at 25 yards, I shot some nice 5-round groups averaging just over 2 inches with Hornady Critical Duty and 124 grain Speer Gold Dot. I actually shot one of my best ever handgun groups with this gun and the Hornady ammo. It was 1.6 inches for all five shots but I had two doubles, so there were only three holes. I'm not saying I could do that on demand, but in the hands of the right shooter, the Beretta might be able to.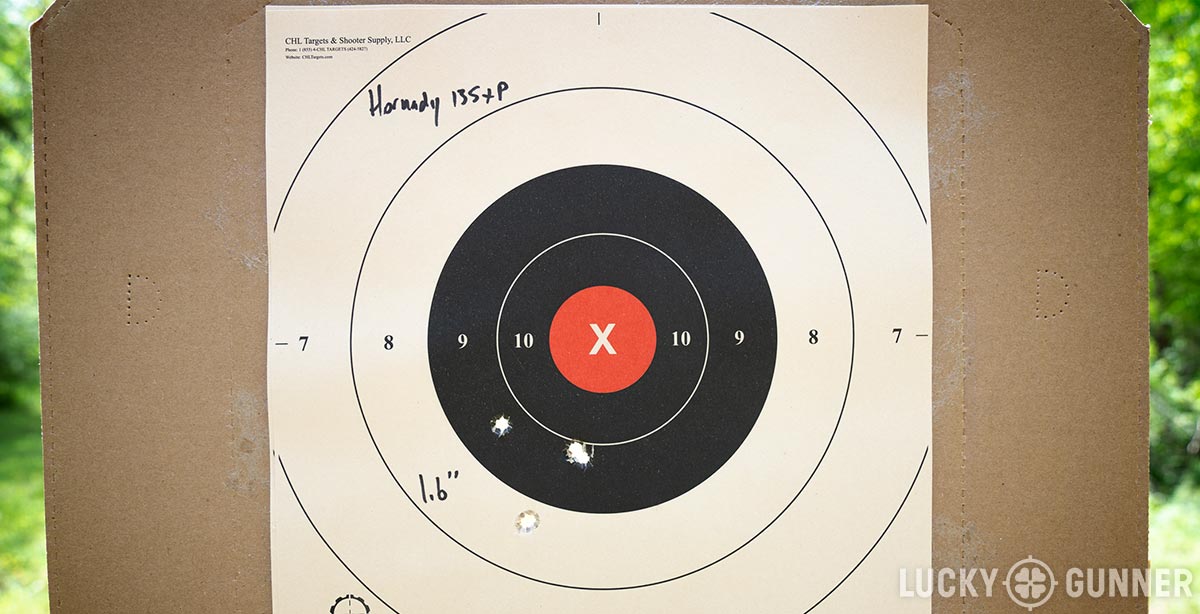 The only feature I'm not totally sold on is the ultra slim VZ grips. I do think they have just the right amount of texture and I like that the texture covers almost the whole surface of the grips, but they might actually be too thin for me. I would have to do some side by side testing to be sure, but it seems like my hands are not making as much contact with the gripping surface as they should be. But grips are always a very personal thing and there is no one size fits all.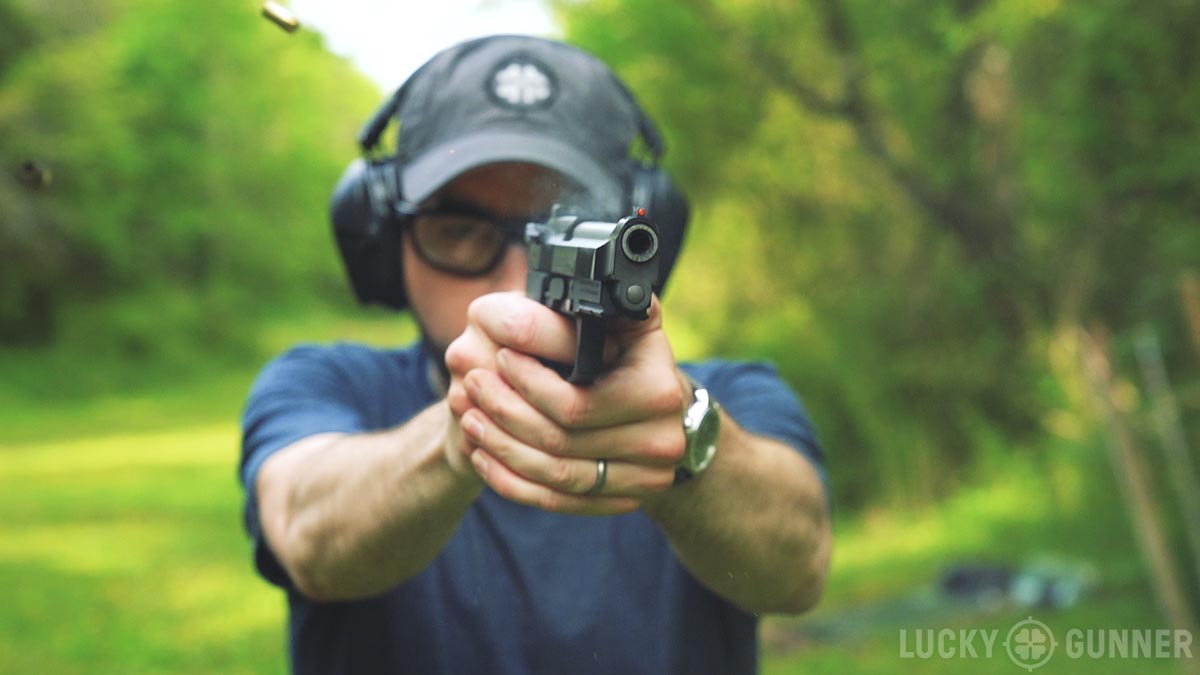 Bottom line, Ernest knows what he's doing and if you like the 92 platform, you are going to like this gun. If you like DA/SA pistols in general, I think you'll like this gun. And yes, I might be biased, but I also know of at least a handful of die-hard Glock fans who have had to rethink some of their life choices after they tried this gun. As far as I'm concerned, for a mass-produced full-size, duty-grade or self-defense pistol, this is just about as good as it gets.
---
Disclosure: Langdon Tactical sent us this gun to evaluate. They also paid for Chris to travel to Arizona to hang out with Ernest at the range for a day. Dark Star Gear sent us the holster to try out at our request after Chris saw one and thought it was good. A positive review was not promised to either company and they did not pay us for this review.