In 2014, Sig Sauer released their very first polymer striker fired pistols: the P320 series. Despite the continued popularity of their metal-framed, hammer-fired 220 series pistols, the polymer pistol market grows every year, and it was clear that the future could get tough for Sig — especially with law enforcement sales — unless they came up with a modern striker-fired pistol to compete with Glock, Smith & Wesson, and others.
So far, the overall reception of the P320 series has been positive, but somewhat reserved, thanks to Sig's late entry to the market. I got an early look at the Sig P320 back at SHOT Show 2014 when they were first debuted, but I didn't get to actually fire one until Sig sent me one of this year's new P320 Subcompacts in 9mm to evaluate. Lucky Gunner Lounge contributor Jim Grant has also been trying out a 9mm P320, but he's got the slightly larger compact model. So, we decided to team up for what you might call a "double blind" first impressions Sig review. We didn't discuss our experiences with the P320s before doing these write-ups, and neither of us read the other's review until both were written. Some of the parallel conclusions we reached might give the impression that we compared notes in advance, but the reviews were written independently.
Jim's Review: Sig Sauer P320 Compact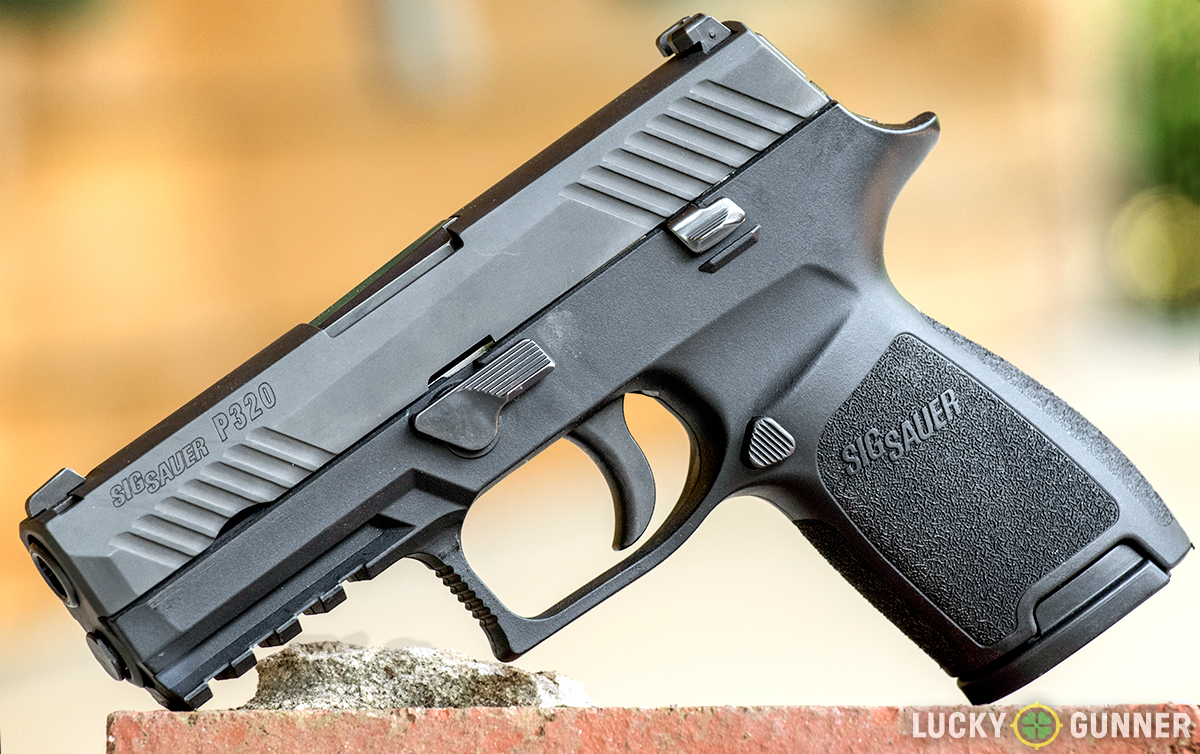 Compact pistols are the most versatile handguns on the planet. Big enough to hold plenty of ammo and small enough to conceal, they are the Swiss army knives of the firearms world. The problem most of them have is bulk. Concealment takes effort, and the grips are too large for small-handed shooters. Since my qualms fall into both categories, I've never been comfortable carrying one. And that's why I was so excited when I saw the advertisement for the SIG P320, with its dehorned appearance and ludicrous amounts of customizability.
Other guns in the past that feature interchangeable backstraps delivered less than impressive results. Since they don't allow a wide enough range of sizes to fix the ruined ergonomics of handguns whose grips resemble 2x4s. So I was pretty skeptical of the interchangeable frames until I held the medium-sized one.
"It fits!" I cried out like the prince in Cinderella, finally finding his lost love. I can eject mags, drop the slide and fire the pistol without having to rotate the gun in my hand. Out of curiosity, I tried the small size, which wasn't uncomfortable at all. I could easily use the P320 with that smallest grip installed, but found that my support hand would overlap my firing one a little too much. Though that could just be hands reporting a conflict with my previous muscle memory.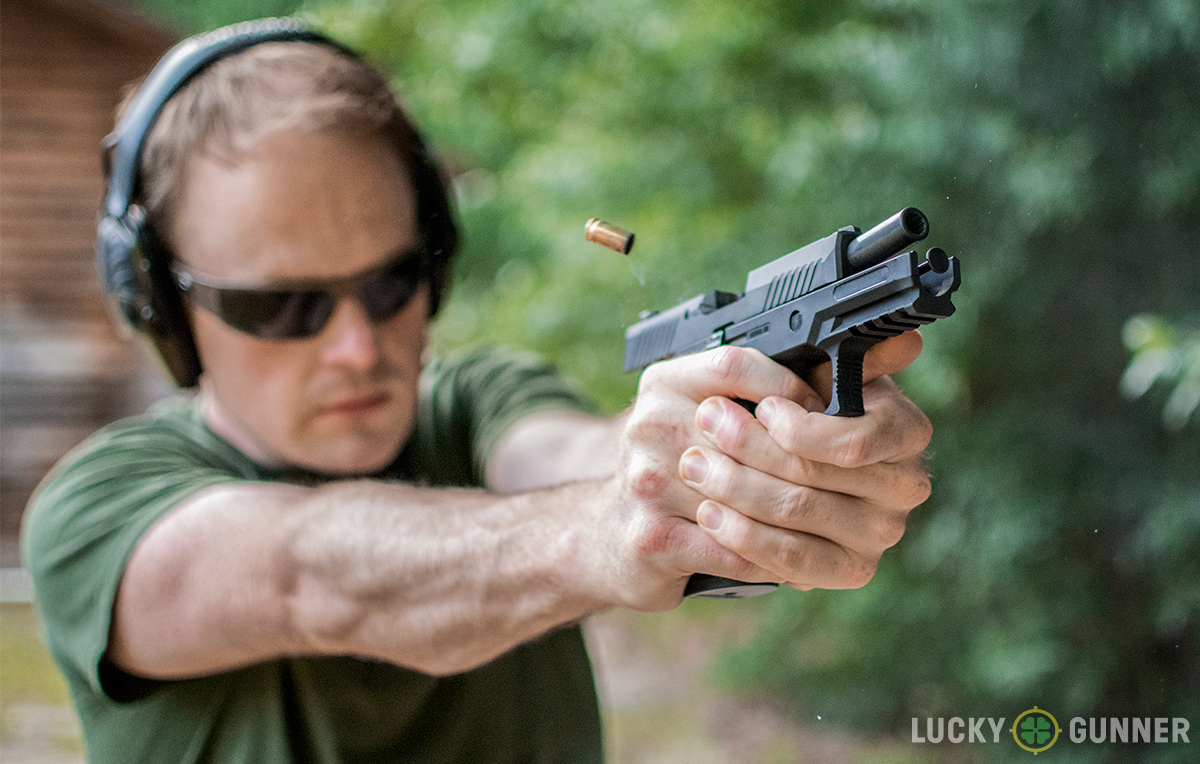 Thus far, I've fired about 500 rounds through the gun, and my impression of the pistol has changed slightly. Initially, I thought the trigger was OK, though arguably better than a factory Glock trigger. Now, I feel that after a solid break in period, it has one of the best triggers on a polymer-framed, striker-fired pistol.
Ergonomics aside, the pistol has a slightly higher-than-average bore height which amplifies felt recoil. In the 9mm version tested, this is a non-issue – especially if a shooter it using a grip that properly fits their hands.
The P320 Compact feels like a cross between a VP9, a Glock 19 and an M&Pc; with the best attributes of all three. The only addition I'd like to see made available would be either a frame that doesn't include a railed dust cover or a rail cover for existing ones. I feel that would make this gun draw easier from concealment, though a quality holster can do much to remedy this.
Hip-shot verdict: the P320 is on par or surpasses all major brands of polymer-framed handguns in terms of functionality, usability and accuracy, and I would argue it has better ergonomics and trigger pull than the vast majority of its competition. I can't personally think of a striker-fired handgun with a better trigger, though the newest Century TP9SA and H&K VP9 come in a close second. I wouldn't sell my Glocks to purchase the P320, but if I weren't already invested in Glock pistols, the P320 is a very attractive option.
Sig P320 Compact Technical Specs
| | |
| --- | --- |
| Barrel Length | 3.9″ |
| Overall Length | 7.2″ |
| Height | 5.3″ |
| Width | 1.4″ |
| Weight (unloaded w/ magazine) | 1.61 lbs (25.8 oz) |
| Sights | SIGLITE Night Sights |
| Action | Striker-fired single-action |
| External Safety | N/A |
| Ammo Capacity | 15+1 |
| Measured trigger pull weight | ~7 lbs |
| Included Accessories | Two 15-round magazines, injection molded paddle holster |
| MSRP | $713 ($628 w/o night sights) |
Chris' Review: Sig Sauer P320 Subcompact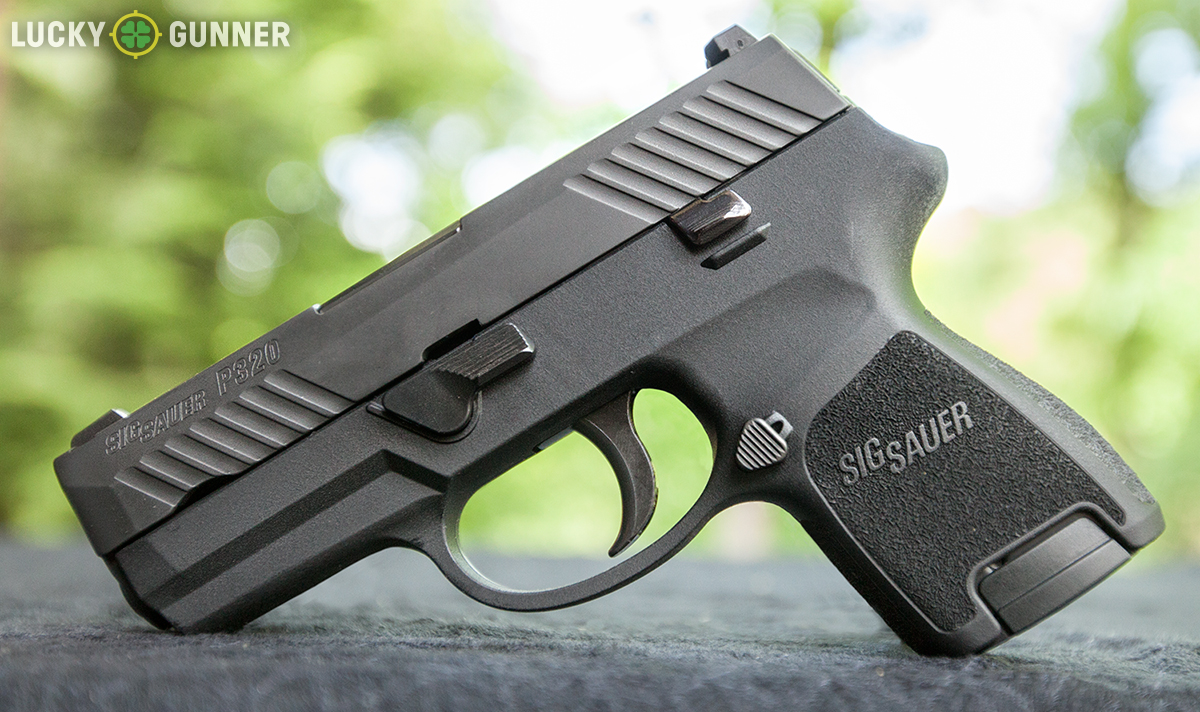 Since the first P320s hit the market in mid-2014, I had read a few reviews but didn't really have a ton of personal interest in actually trying one until the subcompact model was released earlier this year. My daily carry gun is a Smith & Wesson M&P compact, and the Sig P320 compact is very similar in size and has the same magazine capacity. There's been debate over whether Smith & Wesson made the M&P compact too big or too small, but I've always found it to be the "just right" size for me, so I was really eager to find out how the P320 Subcompact compared.
Like the M&P9c, the P320 Subcompact has a double-stack 12-round flush-fitting magazine. I use a pinky extension on all of my M&P compact magazines because without it, my pinky doesn't fit on the grip at all. The Sig P320 Subcompact grip is slightly longer, and has just enough room for me to get three fingers wrapped around the grip, even without the magazine. That said, it's a precarious thiree-finger grip at best, and I think a lot of shooters are going to be looking for an aftermarket pinky extension for the 12-round P320 mags in order to get a more secure grip.
When I first picked it up, the P320 Subcompact seemed excessively top heavy. The portion of the slide and frame that sit above the hand make it much taller than an M&P or a Glock. It's not as obvious on the larger P320 pistols, but with the stumpy grip of the subcompact, the slide seems out of proportion.
This might make a minor difference in how the gun carries in a holster, but it seems to have little impact on how the gun shoots. At the range, the P320 Subcompact delivered noticeably less recoil than my M&P9c, which itself has always seemed fairly mild for a small 9mm. Yes, the bore height is taller on the P320, but in my experience, this isn't always the deal breaker so many people make it out to be. The rule of thumb I've come up with is that a low bore height is often an indication of soft recoil, but a high bore height doesn't necessarily mean the opposite is true.
The trigger on the P320 series is a definite highlight of the design. Sig's last attempt at the modular polymer pistol concept was the hammer-fired double-action only P250, which cosmetically, is nearly identical to the P320. The P250 has not exactly been received by the market with enthusiasm, partly thanks to the long trigger pull. For many shooters, the advantage of a striker fired action over a hammer-fired pistol is the ability to have a consistent, manageable trigger without the necessity of an external safety. The P320 trigger is a shining example of what a striker fired trigger can be.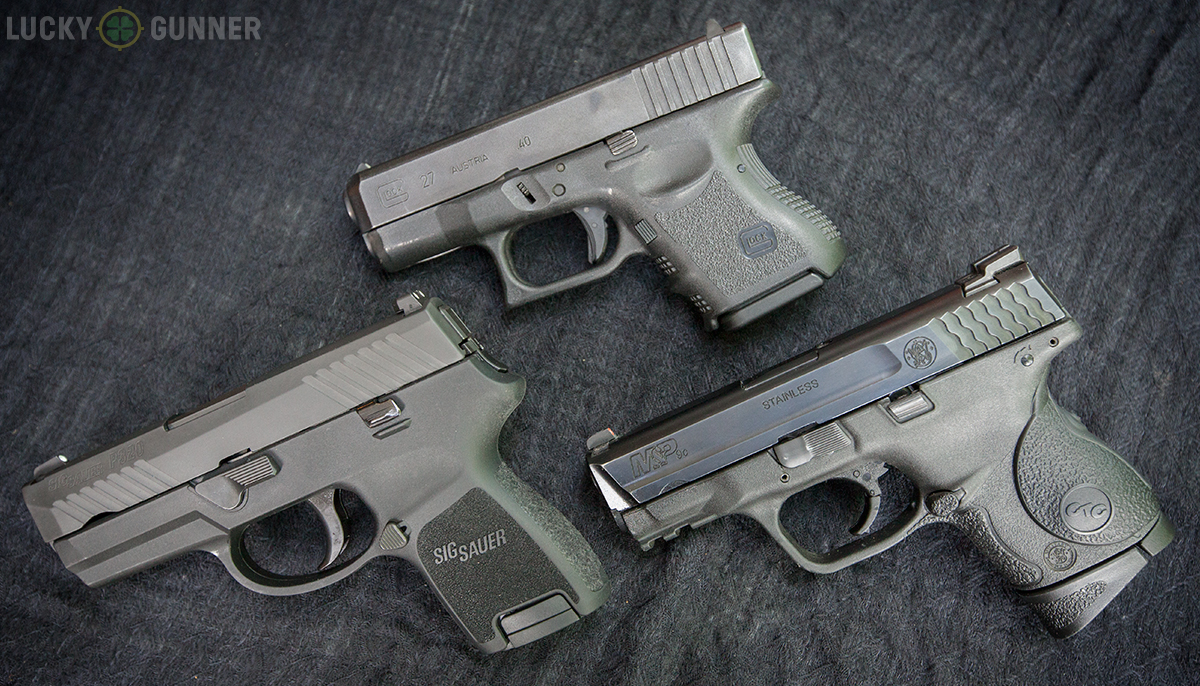 Compared to a factory Glock, M&P, or XD, the P320 trigger can best be described as "crisp" with a short travel. The reset is also short and deliberate, making accurate rapid fire very achievable, even with a small pistol like the subcompact model. I measured the weight of the pull at around 7 lbs on my trigger scale and I expect it to lighten up a little more as I get more rounds down range.
Overall, I've been impressed with the P320 Subcompact. In fact, if I were to start carrying it tomorrow, the only thing I would change would be the sights (and maybe the aforementioned extended magazine basepad). The pistol I received from Sig is equipped with the serviceable SigLite night sights, but I always prefer to have a bright contrasting color on the front sight like the Trijicon HDs. Despite the P320 being relatively new, there is already considerable aftermarket support thanks to the parts it shares with the existing P250 pistols.
My experience with the P320 series is admittedly limited so far, but I feel comfortable saying that if I was starting from scratch tomorrow, and not already so heavily invested in the M&P platform, I would definitely consider the P320 subcompact as an everyday carry pistol along with a couple of its larger siblings for home defense and other roles.
Sig P320 Subcompact Technical Specs
| | |
| --- | --- |
| Barrel Length | 3.6″ |
| Overall Length | 6.7″ |
| Height | 4.7″ |
| Width | 1.1″ |
| Weight (unloaded w/ magazine) | 1.56 lbs (24.9 oz) |
| Sights | SIGLITE Night Sights |
| Action | Striker-fired single-action |
| External Safety | N/A |
| Ammo Capacity | 12+1 |
| Measured trigger pull weight | ~7 lbs |
| Included Accessories | Two 12-round magazines, injection molded paddle holster |
| MSRP | $713 ($628 w/o night sights) |
Are you a P320 owner? What have been your impressions of the pistol? We'd love to hear your thoughts below.