Seeing Red
I'm personally a big fan of laser sights for self-defense handguns, especially the easy-to-use LaserGrips from Crimson Trace. The old myths about laser sights being useless gimmicks have mostly been put to rest, but if you still need some convincing before you try a laser sight for yourself, here are a few good reasons:
Featured gear used in the video:
Smith & Wesson M&P9 w/ Crimson Trace Lasergrips firing Federal JSP 95 gr 9mm.
Ruger LCR-22 w/ Crimson Trace Grips firing CCI Standard Velocity 40gr LRN.
From "Ahnold" to Your Carry Gun
When handgun laser sights first came out a few decades ago, they were mostly seen by shooters as a gimmick. And rightly so. They were used in movies like Terminator when the creators wanted a gun to look high tech and futuristic, but the actual lasers sights on the civilian market in the 1980s and early 90s were far too impractical and expensive to be useful for the average shooter.
In the late 90s and early 2000s, companies like Crimson Trace started making laser sight products that were actually usable. The new generation of lasers were compact and rugged. They would hold a zero pretty well, had a long battery life, and were affordable enough that some people were willing to give them a try. It still took several years for serious shooters and firearms instructors to get over the gimmicky reputation that laser sights had. But finally, today laser sights tend to be viewed more as a useful accessory for a self-defense gun and not just a novelty.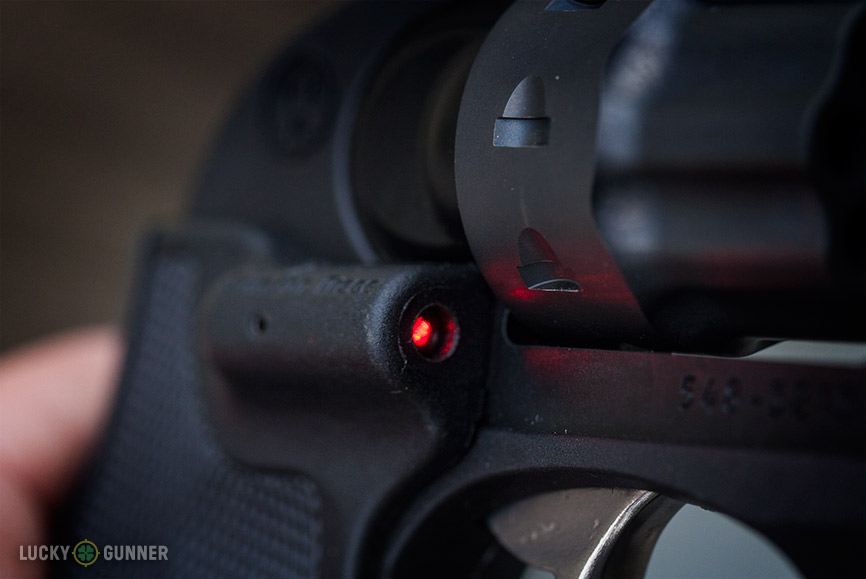 Despite having an improved reputation, plenty of gun owners aren't convinced that adding a laser sight to their carry gun is worth the expense. The best handgun lasers aren't cheap, and can add up to 50% to the price of a new firearm that has a laser sight pre-installed. That's not chump change, especially if the prospective buyer hasn't had the chance to see the benefits of a good laser sight first hand. Even some people who have actually tried the lasers don't always see the benefits right away, which I think is often the result of misplaced expectations.
If you still don't buy the hype about lasers after watching the video above, I'd challenge you to at least seek out somebody who can let you try out a laser equipped handgun at the range in low light. Coupled with some decent flashlight techniques, a good laser offers an enormous advantage for fighting in the dark. If that doesn't have you drinking the Crimson Kool-Aid, then I promise not to complain when you call me names in the comments.