This year, Ruger celebrates 50 years of one of the most popular rifles of all time; the 10/22 semi-automatic .22 LR. There have been some minor changes made to the Ruger 10/22 over the years, but the basic design is mostly unchanged from the original. Also unchanged is the purpose of the rifle. Just like the first 10/22s that came off the line in 1964, today's 10/22 is a reliable, inexpensive, all-purpose detachable-magazine-fed rimfire rifle for the masses.
Fifty years ago, the 10/22 may have been one of the only rifles on the market with all of those characteristics, but in 2014 there are dozens of excellent options in that fit the bill. What distinguishes the Ruger today is the staggering amount of aftermarket support. No other rifle in the world, including the ubiquitous AR-15, can be had in as many configurations as the 10/22. Rather than resist modifications to their original design, Ruger has fully embraced the 10/22's modularity. Ruger's website currently lists an impressive 71 versions of the 10/22 as being in current production. And that's not even taking into account any of the thousands of aftermarket parts and accessories that can't be obtained directly from Ruger.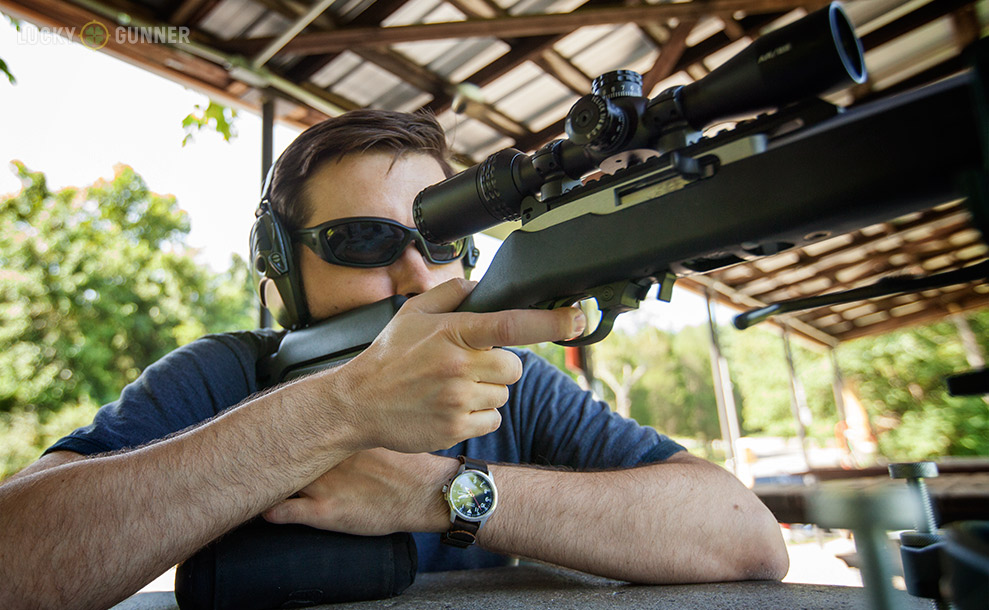 To celebrate the birthday of the 10/22, Ruger held a contest late last year asking customers to submit their ideal 10/22 design. Ruger then hand-selected 10 of those designs and opened a poll on their website for fans to vote on their favorite design. The winning design would be made into a full production rifle known as the Ruger 10/22 50th Anniversary Design Contest Rifle, and its designer would receive $5000 worth of Ruger products. Despite being one of the 9 finalists who did not win the contest, I have actually been looking forward to getting my hands on the winning rifle. Ruger finally started production on the 50th Anniversary Design Contest Rifle not too long ago, so I picked one up to see if it did justice to the proposed design that won back in November.
The contest winner was Gary from Michigan, an instructor for Project Appleseed. His winning rifle concept was designed around the basic characteristics of what Appleseed considers to be the ideal training rifle, with a couple of extra features stemming from Gary's experience working with students. The outcome is a rifle that's not only great for marksmanship training, but an extremely well-rounded rimfire that, in my opinion, makes a much better all-purpose rimfire rifle for today's shooter than the standard version of the 10/22.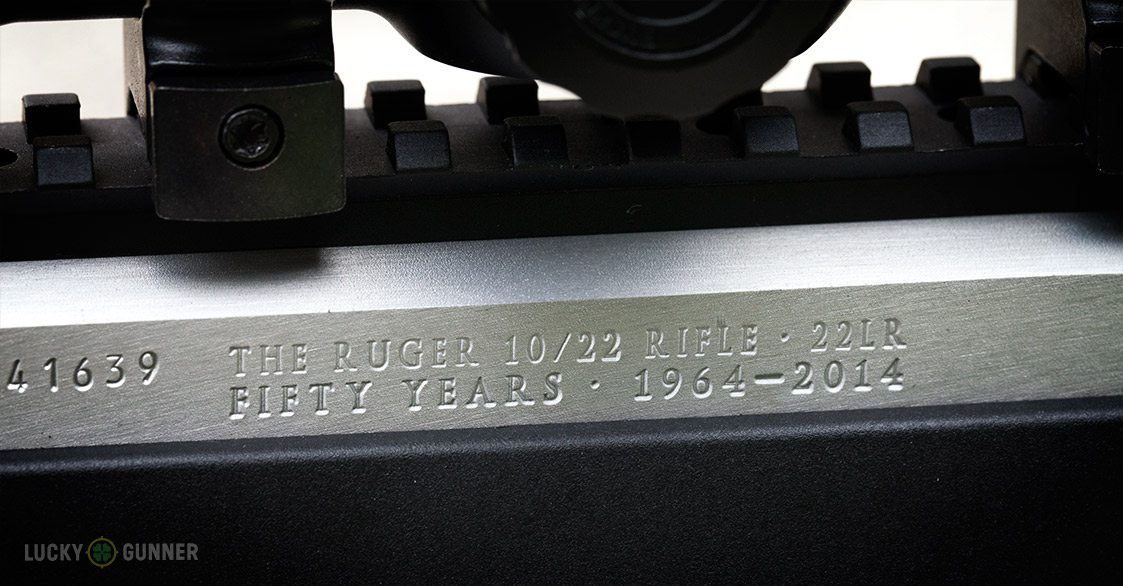 The Winning Features
At first glance, the winning 10/22 doesn't look particularly exotic or exceptional. It's got a stainless finish, an 18.5″ barrel, and a synthetic stock. But anyone familiar with the standard 10/22 will quickly notice a few key features that set this rifle apart from the usual.
The first and most distinctive feature of this 10/22 is the rear sight/scope rail combo. Most 10/22 rifles have open sights with both the front and rear mounted to the barrel. They're quick, but not very good for precision and only adjustable for elevation. "Target" versions of the 10/22 have no sights at all, but come with a rail for mounting optics. There are some nice aftermarket adjustable aperture sights that mount to the 10/22 receiver, but most of them take up the space where the scope rail goes, so they have to be removed in order to use optics. The contest winning 10/22 offers the best of both worlds by using a picatinny rail with an integrated fully adjustable rear aperture sight. It's complimented by a military style front sight blade protected by ears on either side.
Another stand-out feature of the design contest 10/22 is the adjustable stock, which was borrowed from the Ruger American rimfire bolt action rifles. The rear of the stock can be used with different "stock modules"; essentially, pieces that change the length of pull and the comb height. The rifle comes with one short and one tall stock piece for use with iron sights and optics respectively. The importance of a good cheek weld is often underestimated, so it's encouraging to see a company getting on board with helping customers get the most out of their rifles when using optics.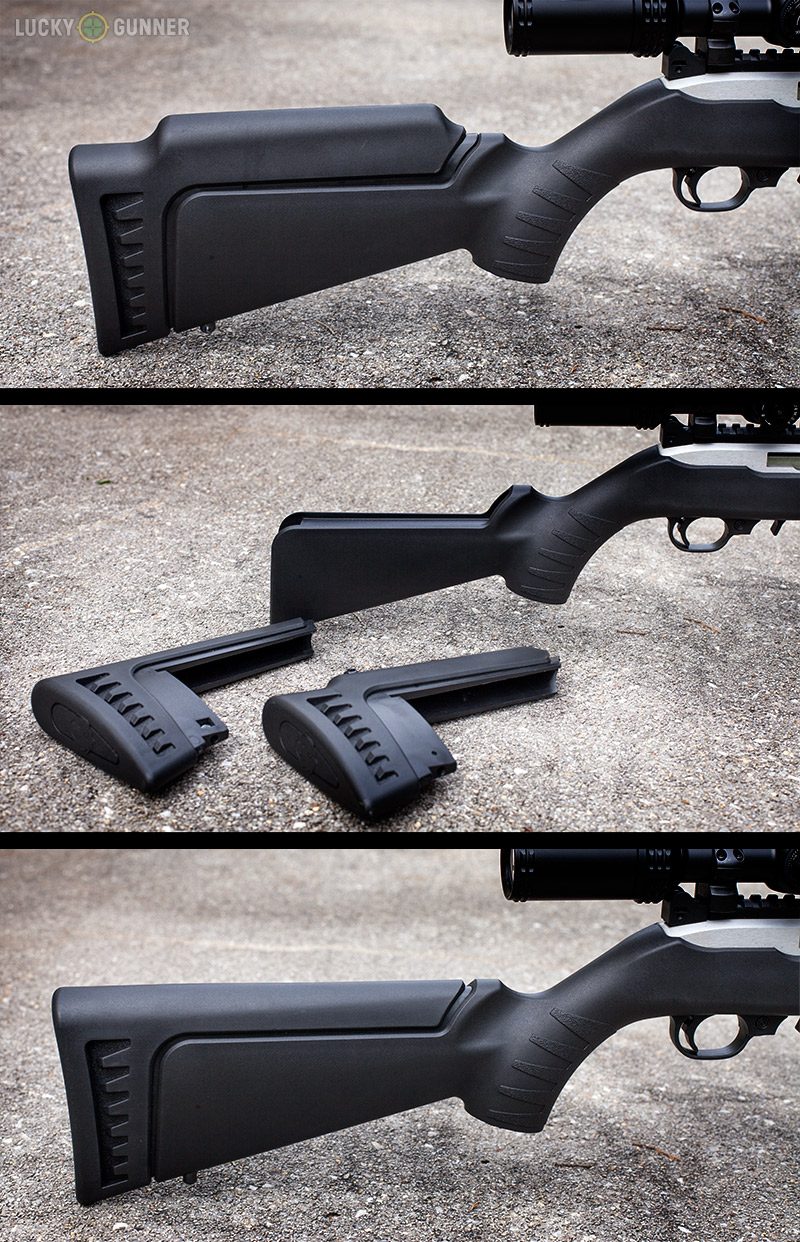 One aspect of the new 10/22 that might confuse some people is the flash hider. Why would you want a flash hider on a .22 rifle? It's a valid question, but according to Gary, the key is not to think of it as a flash hider, but as a "mud guard". Apparently it's a common problem for rookie shooters in Appleseed clinics to accidentally dip their muzzles into the ground when practicing the prone position. This can lead to dangerous barrel obstructions, or even more tragic, unsightly scratches and dings on the muzzle. From Ruger's perspective, the flash hider is a great addition because it's an easy way to make sure that potential customers notice the barrel is threaded… potential customers like me who are going to immediately toss that flash hider aside and throw a suppressor on there.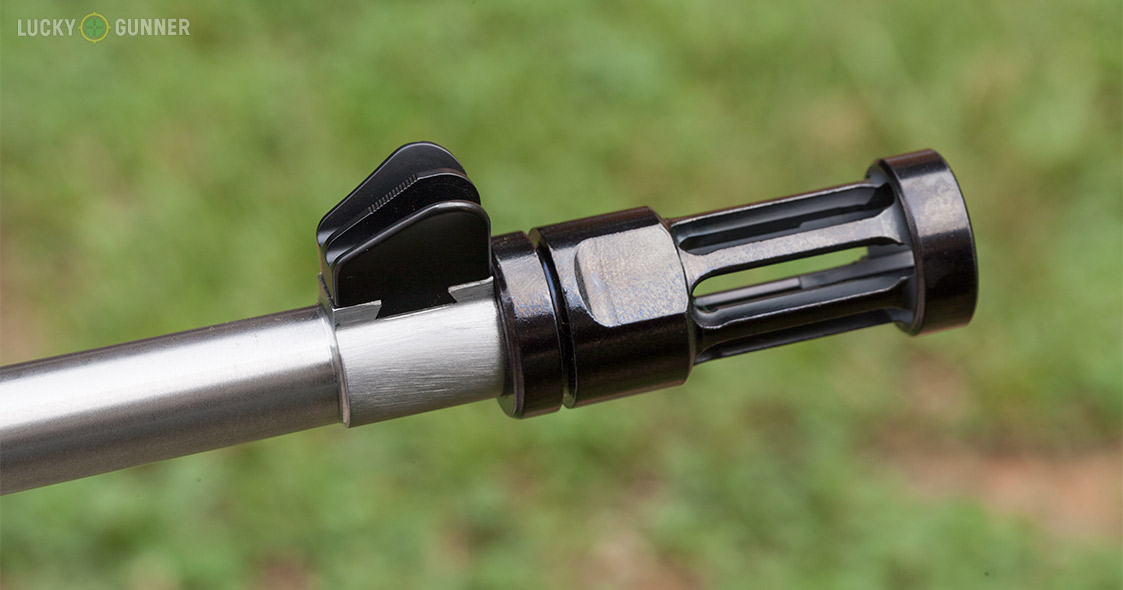 Ruger 10/22 On the Range
Okay, so all these features look great, but how does it shoot? Contrary to Internet legend, just because we're in the ammo business doesn't mean we're sitting on shipping containers full of .22 LR. I'm personally in scrounge-mode as much as anyone, but I did manage to convince our supply chain guys to loosen their grasp on a couple of boxes of my favored Wolf Match Target ammo for the purpose of this review.
I really like that this rifle has decent sights right out of the box, but I was itching to try out the Bushnell AR/22 2-7×32 rimfire rifle scope, so that's what I used for most of my time at the range. With the taller stock insert installed, I was able to get a perfect cheek weld for the scope. Unfortunately, I was pretty limited in where I could set the eye relief because the rear sight gets in the way of the eye bell. However, even with the scope set farther back than I would have liked, eye relief wasn't an issue. If necessary, the rear sight can be completely removed from the rail, allowing more flexibility in scope placement.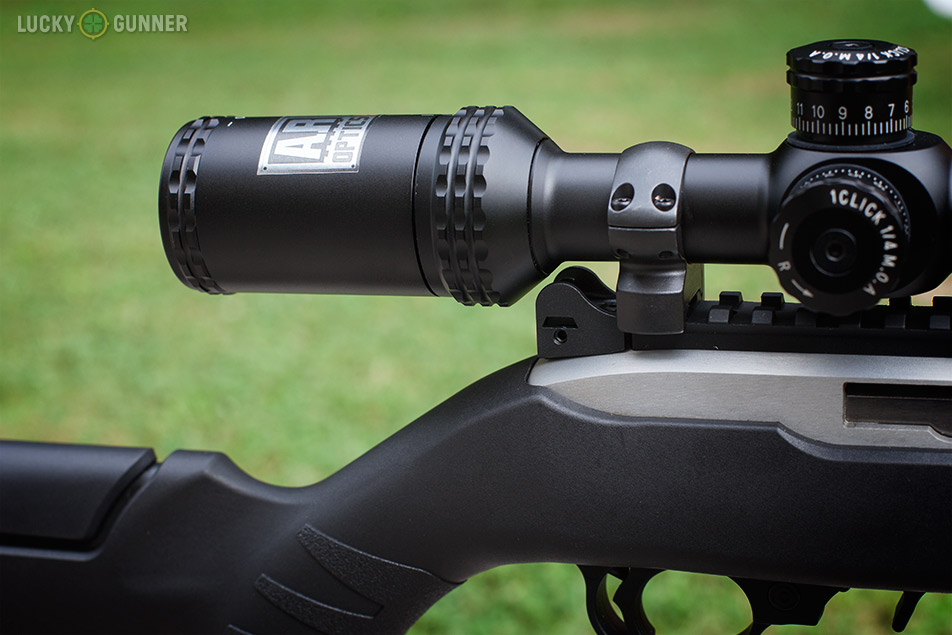 The key word here is flexibility. This 10/22 has it. It's the perfect rifle for someone who likes to switch between optics and iron sights depending on the task at hand (or their mood). It also offers options for a beginning shooter who might not be sure exactly what they want, and might appreciate having the ability to try it both ways. With the shorter stock inserts that are available from Ruger, the length of pull can be adjusted for younger shooters, making it not only an "all purpose" rifle but also an "all ages" rifle.
I think I've complained about the trigger on every gun I've reviewed for this blog so why break that streak now? The contest winning 10/22 has the same trigger as the standard 10/22, which is to say it's on the stiff side. Out of the box, the trigger pull weight measured about 7 lbs, which I consider to be unacceptable, especially for a rifle that only weighs 5 lbs. For the sake of accuracy, the force required to squeeze a rifle's trigger should never be greater than the weight of the rifle itself. I would have preferred the trigger Ruger uses in their 10/22 Target rifles, which is still not exceptional, but perfectly adequate for most uses. After a few thousand dry fires, that stock trigger should smooth out a little bit, if you're willing to put in that kind of effort.

Bench rest accuracy at 50 yards was pretty typical for a 10/22. With the Wolf Match ammo, my five-shot groups all landed in the 1.5-2″ range. Nothing too impressive, but this Ruger is not meant to be a bench rest gun. Honoring the spirit of the contest winner's intentions, I moved up to 25 meters and shot a modified version of stage four of Appleseed's Army Qualification Test: using only a sling for support, fire ten shots from the prone position at four small silhouettes simulating full size targets at 400 yards.
The original test allows five minutes for the stage, but with the weather at a humid 92 degrees and no available shade at the 25 meter line, I decided two minutes on the timer would be plenty long enough. My first attempt tallied up to 92 points out of 100. Not too bad, and at least as good as any of my "official" attempts at the Appleseed clinic I attended last year. My second attempt netted the slightly lower score of 88, but for both tries, achieving a solid cheek weld quickly was trivial, thanks to the high comb that I was using on the Ruger's stock. A lighter trigger may have helped bump my score up a point or two, but as it is, the rifle should be more than sufficient to help anyone sharpen their marksmanship skills at an Appleseed event or elsewhere.
Suppressed Savage Mark II vs. Suppressed Ruger 10/22
Nothing against Appleseed, but like I said earlier, this particular 10/22 is good for a lot more than just marksmanship training. My personal favorite feature, of course, is the threaded barrel. This isn't the only threaded 10/22 that Ruger sells, but I was really happy to see that feature included along with the already excellent sights and stock combo. Suppressed, the 10/22 will put a grin on anyone's face. It doesn't quite reach the status of "stupid quiet" like a suppressed bolt action, but it's not too far off:
If you're after maximum quietness with a suppressed .22, the common wisdom is to go for a bolt action. In the video, you can hear that the Savage is just a bit quieter than the Ruger. The difference is a little more noticeable in person, but not by much. Most of the increase in noise with the semi-automatic comes from the 10/22's bolt moving back and forth, but there's no perceptible difference in the blast generated by the subsonic ammunition. So if you're a suppressor owner, or if you've even thought about buying one, having a 10/22 that's suppressor-ready right out of the box is a huge plus.
Final Thoughts

The 50th Anniversary Ruger 10/22 is not the perfect 10/22. It could stand to be a little more accurate. The trigger could be better. And I'm sure you could think of a few things you'd want to change yourself. But for an MSRP of only $379, it's got an impressive set of features at a great value. Overall, I think it's one of the better 10/22 setups that Ruger has ever offered from the factory, and probably the most well-rounded.