Every year at SHOT Show, the shooting industry's trade show, all the big manufacturers gather in Las Vegas to show off their latest releases for dealers and the media. If you've never been, it's quite a spectacle to behold. But if you want to know the truth, of the tens of thousands of products on display, there are usually only a handful worth mentioning.
Concealed carry handguns dominated the spotlight at the 2016 SHOT Show. However, only a couple are truly new firearm designs. The majority of the featured products are simply previously released guns offered in new calibers, colors, and barrel lengths. That's not necessarily all bad, however. Some of the new variants actually bring much-needed improvements to existing handguns. I put together a quick list of my impressions of a few of the more promising new releases from SHOT Show 2016 in the concealable handgun category.
Kimber K6s Revolver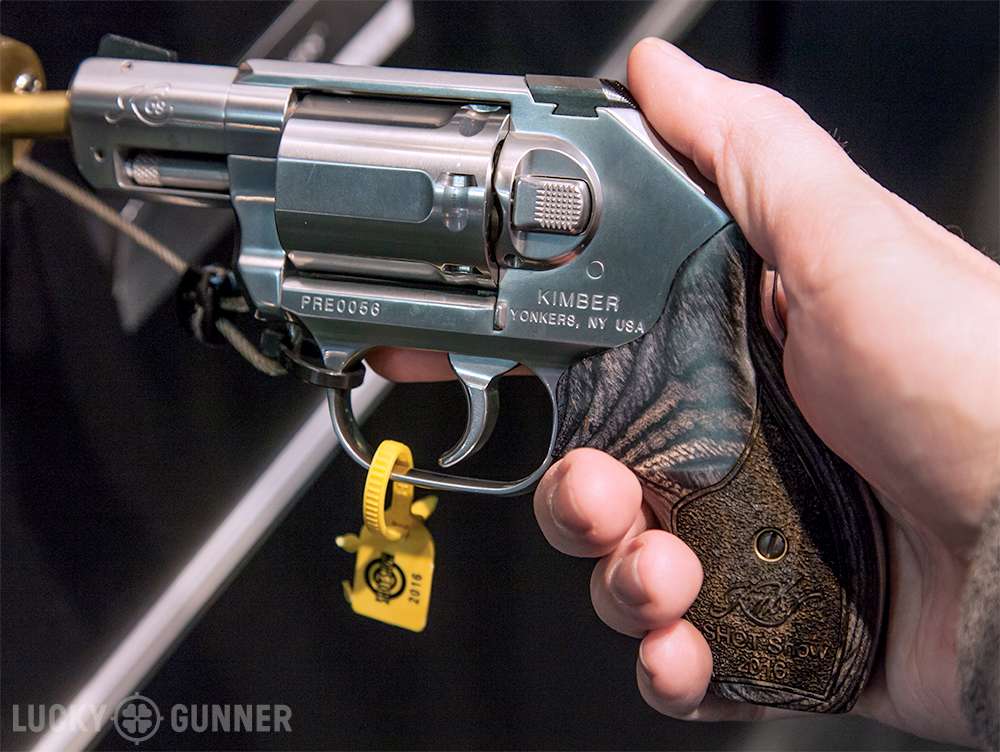 This small-frame 6-shot revolver from Kimber was the most interesting new handgun at SHOT — interesting enough that I devoted an entire post to it, so go check that out if you missed it.
Walther PPS M2
One of the first things on my radar at SHOT this year was the new Walther PPS M2. The original Walther PPS has been around since 2007 and was one of the first decent pistols in the polymer single stack 9mm category. It developed a good reputation for reliability early on and has been a favorite in its class among serious shooters. I carried a PPS for a few years and still consider it one of the most shootable small 9mm pistols on the market. But it's got a few flaws. In particular, the paddle-style magazine release and a needlessly complicated "safety" feature that disables the pistol when the backstrap insert is removed. On top of that, the MSRP is at least $150 higher than most of its competitors.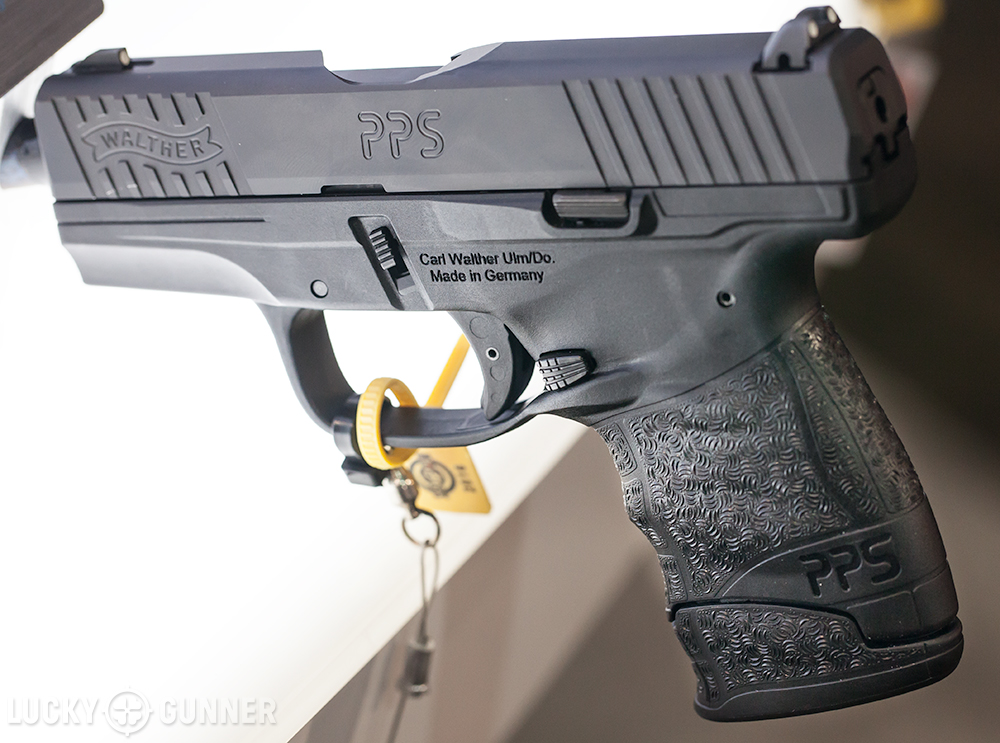 With the PPS M2, Walther has addressed all of these issues. The paddle mag release has been replaced with a standard push-button, the removable backstrap is gone completely, and the new MSRP of $469 is right on par with other popular slim 9mm carry pistols. In addition, Walther has completely overhauled the ergonomics of the PPS so the grip has a feel much closer to the excellent design of their larger double stack PPQ pistols. The trigger of the Walther PPS M2 has also undergone some changes and is now a bit smoother than the original PPS.
Like the original, flush-fitting magazines for the PPS M2 hold 6 rounds with extended 7 and 8 round mags also available. These magazines are a new design, however, so the PPS M2 is not compatible with mags from the original PPS.
It looks like Walther has kept all the best parts of one of my favorite carry pistols and made a few much-needed changes. I'll definitely try to get my hands on one of these for some testing at the range in 2016.
Walther PPS M2 Technical Specs
| | |
| --- | --- |
| Caliber | 9mm (.40 S&W available Spring 2016) |
| Barrel Length | 3.18″ |
| Overall Length | 6.3″ |
| Height | 4.4″ |
| Width | 1″ |
| Weight (unloaded w/ magazine) | 1.32 lbs (21.1 oz) |
| Sights | Drift Adjustable White 3-Dot |
| Action | Striker-fired |
| External Safety | N/A |
| Ammo Capacity | 6+1, 7+1, or 8+1 (or 5/6/7 for .40 S&W) |
| Advertised trigger pull weight | 6 lbs |
| Included Accessories | Two magazines (Available with 1-6 rd & 1-7 rd or 1-7 rd and 1-8 rd) |
| MSRP | $469 |
Beretta PX4 Compact Carry
This new pistol from Beretta has mostly flown under the radar at SHOT, but it is actually one of the products I'm most interested in. It's an upgraded version of the 9mm Beretta PX4 Storm Compact.
Beretta introduced the original full-size polymer-framed DA/SA Beretta PX4 Storm in 2004 with the hopes that it would replace the aging 92FS pistols in the civilian market. But in an era dominated by striker fired designs, the PX4 only managed a small cult following, and they've just kind of been hanging out in the background ever since. Beretta subsequently released compact and subcompact versions, but neither of those have attracted much attention either.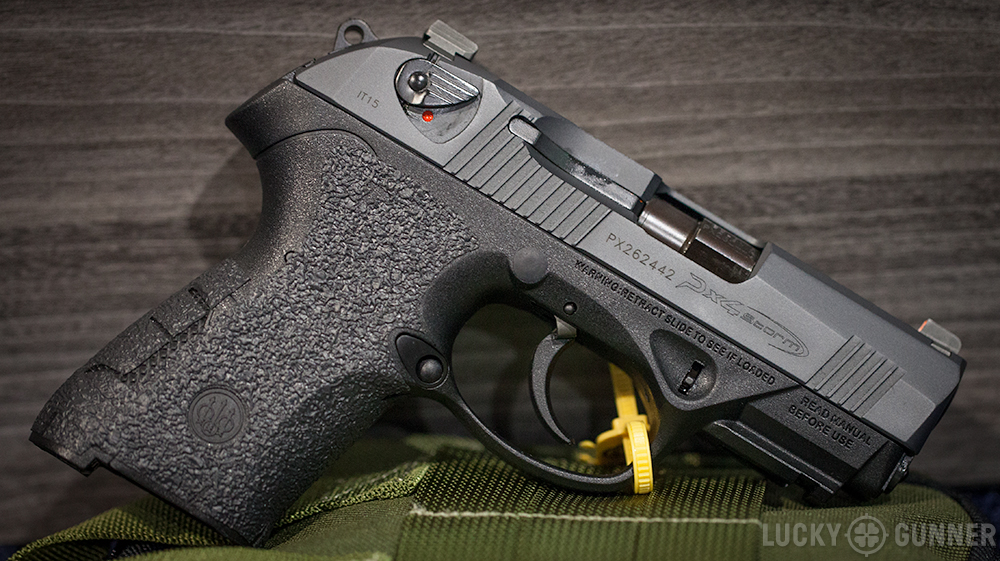 So why would I care about a new variant of a mostly-forgotten hammer-fired pistol? The short answer is "Ernest Langdon". If you're not familiar with Mr. Langdon, he's an accomplished competitive shooter and sought-after handgun instructor who's known as a big fan of DA/SA pistols in general, and Berettas in particular. A few months ago, Langdon started a thread on pistol-forum.com about his experiments with the PX4 Compact and how it may be a bit of a hidden gem in the company's catalog. Other members of the forum followed with great interest, which eventually led to Langdon pitching the idea of a modified PX4 Compact to Beretta. Since most of the mods come in the form of optional aftermarket parts already produced and sold by Beretta, it was an easy task for Beretta to pull off, and the first prototype was put together just in time for SHOT.
The modifications are based on Langdon's personally owned PX4 Compacts and include a de-cock only low-profile safety lever, reduced profile slide release, grip decals, and Ameriglo sights with a plain black rear and combination tritium-dayglow orange square front. The hammer spring and internal parts have also been tweaked for a lighter and smoother trigger pull. To distinguish this pistol from the standard PX4 Compact model, the slide has been Cerakoted with a "Sniper Grey" finish. As icing on the cake, the pistol will ship with three 15-round magazines instead of just two.
The end result is a PX4 that's set up for the more discerning user — essentially a semi-custom Glock 19 for those who prefer double action pistols. MSRP is projected to be under $800, compared to the $650 MSRP of the standard PX4. That means the final retail cost should be lower than if one were to attempt all the same aftermarket modifications on a stock pistol (ask how I know). I plan to try out the new PX4 Compact Carry when it's released and will follow up here with a full review.
PX4 Compact Carry Technical Specs
| | |
| --- | --- |
| Caliber | 9mm |
| Barrel Length | 3.27″ |
| Overall Length | 6.8″ |
| Height | 5″ |
| Width | 1.3″ |
| Weight (unloaded) | 1.7 lbs (27.2 oz) |
| Sights | Drift Adjustable Black Rear, Ameriglo Tritium/dayglow orange square front |
| Action | Double Action/Single Action |
| External Safety | de-cock only |
| Ammo Capacity | 15+1 |
| Advertised trigger pull weight | N/A |
| Included Accessories | 3-15 round magazines |
| MSRP | Projected <$800 |
Sig Legion Pistols
While not exactly new, the Sig Sauer Legion series pistols started shipping late last year and were on full display at SHOT Show. They are essentially premium versions of the classic Sig P-22X series pistols that have been worked over by Sig's in-house custom shop. Legion pistols feature a checkered front strap, reduced contour beavertail, undercut trigger guard, Grayguns adjustable trigger, high contrast night sights, a special grey finish, and a few other tweaks. The first models to get the Legion treatment are the P226, P226 SAO, and P229. At SHOT Show, Sig was also showing off the new .45 ACP P220 Legion.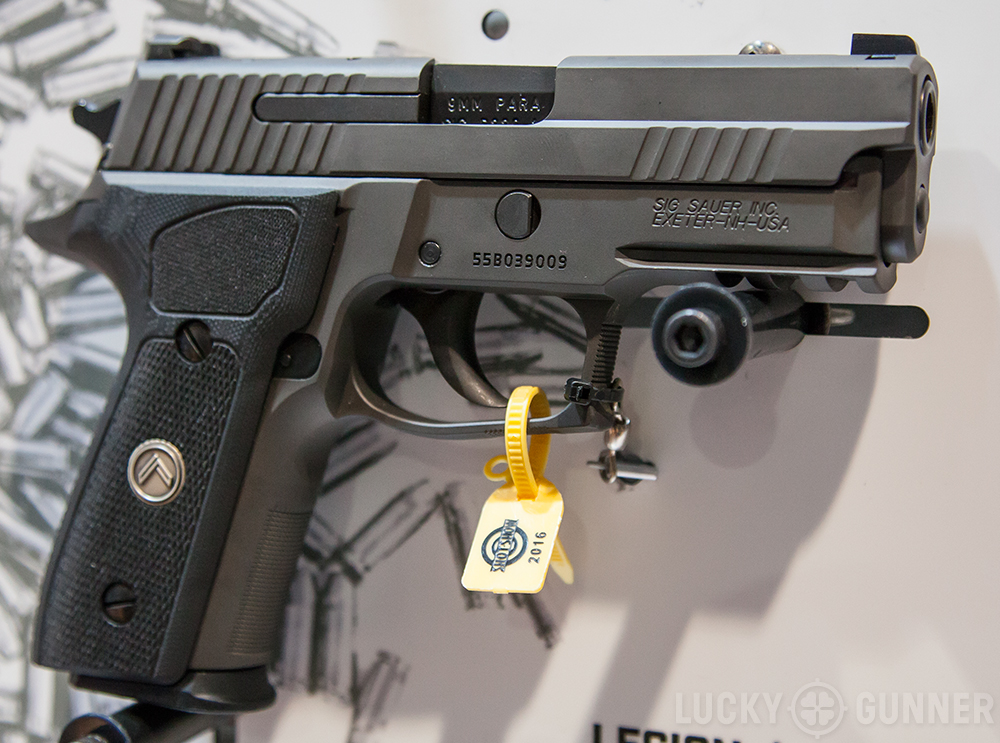 The extra enhancements on the Legion series pistols are all pretty involved, and you'd have to fork over quite a bit of cash to a gunsmith to set up your standard Sig with all the same features, a fact that's reflected in the MSRP of $1428. Sig has a big flashy marketing campaign behind the Legion brand which automatically made me skeptical as to whether the modifications would be all fluff and no substance. I haven't had a chance to fire one of the new Legion pistols yet, but based on what I was able to see at SHOT, most of these mods seem to make a lot of sense for serious users. I was impressed by the feel of the triggers on the display models, and I think the modifications to the grip could certainly make the gun easier to control under recoil. I especially like the sights they're using with the bright green ring on the front.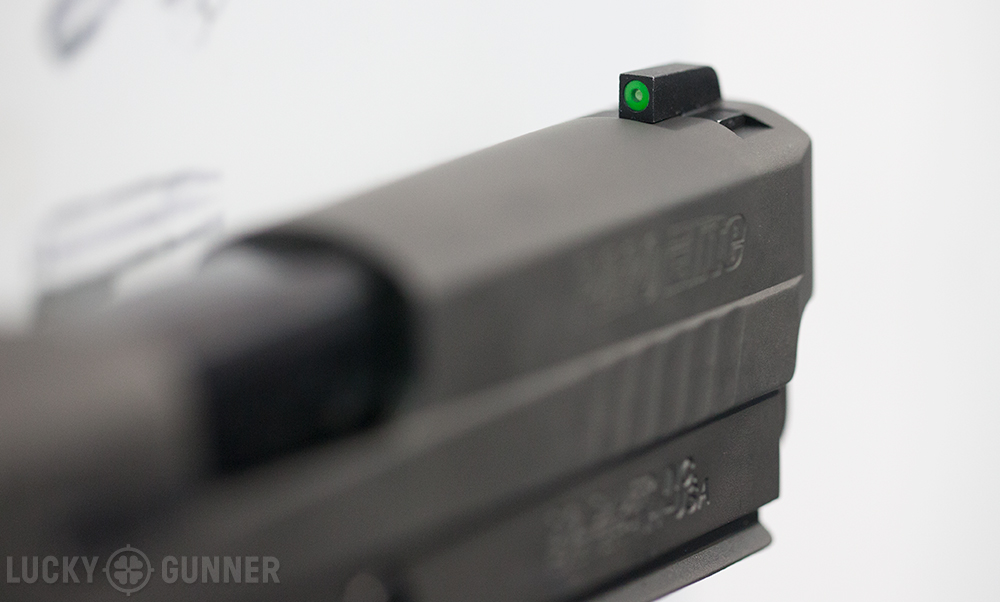 I won't say I'm convinced that the Legion pistols are worth the price Sig is asking, but it looks like they've put together a very nice package that high-volume Sig shooters might want to consider.
UPDATE: Check out my full review of the Sig Sauer Legion P229 9mm.
Springfield Armory EMP4 Lightweight Champion
Springfield Armory rolled out half a million (give or take) new products this year, which are all variants of existing pistols and rifles. Out of those, the new .40 S&W version of the XD-S has probably attracted the most attention, but since most of you guys already know how I feel about über-compact 40 caliber pistols (short version: they're dumb), I'm going to skip that one and talk about something I find far more interesting: the 9mm EMP4 Lightweight Champion.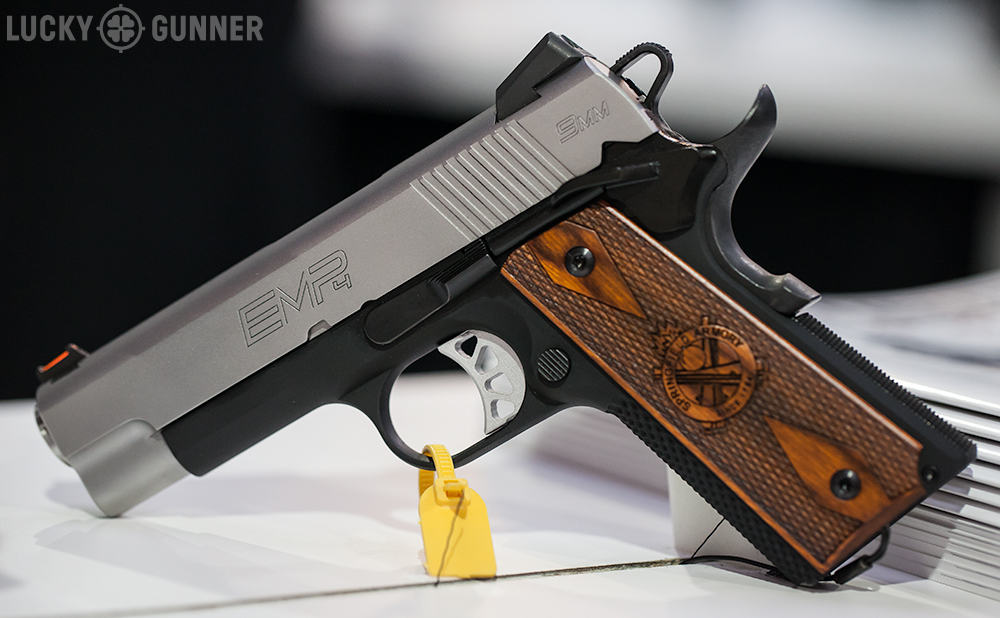 Springfield's original 3-inch barreled EMP has been around for a while now, pre-dating the polymer single stack 9mm boom by just a couple of years. It is basically a sub-compact 1911 that's slightly scaled down for the 9mm cartridge, so it has a smaller footprint than most other short-barreled 9mm pistols that retain the frame dimensions of the original 1911. Reports of the EMP's reliability have always been somewhat mixed, and the high MSRP has steered most interested users toward more affordable carry options. That said, by all accounts, the EMP is a nice shooting pistol and an attractive size for a carry gun.
The EMP4 is mostly identical to the standard EMP, but an inch longer with a slightly taller grip to accommodate 10-round magazines. The reason I find that so interesting is that with the larger dimensions, the EMP4 is basically a scaled-down version of a 9mm Lightweight Commander 1911 — my absolute favorite configuration of the 1911 design (at least when they work). In general, chambering the 1911 for 9mm is a notoriously problematic combination, and I wouldn't imagine that scaling down all the parts would magically fix that. So I don't know how well the EMP4 would run long term, and I don't know if I'd ever actually carry one, but I really, really like the idea of it, and I have no doubt it would be a ton of fun at the range.
Springfield Armory EMP4 Lightweight Champion Technical Specs
| | |
| --- | --- |
| Caliber | 9mm and .40 S&W |
| Barrel Length | 4″ |
| Overall Length | 7.5″ |
| Height | 5.5″ |
| Width | 1.4″ |
| Weight (unloaded w/ magazine) | 1.94 lbs (31 oz) |
| Sights | Drift Adjustable White Dot Rear, Red Fiber Optic front |
| Action | Single Action |
| External Safety | Ambidextrous Thumb Safety, Grip Safety |
| Ammo Capacity | 10+1 |
| Advertised trigger pull weight | N/A |
| Included Accessories | 3-10 round magazines, Paddle Holster, Double Mag Pouch |
| MSRP | $1179 |
Ruger American Pistol
The Ruger American isn't really designed for concealed carry, but since it was only of the only guns at SHOT 2016 that's completely new, I figured I would at least mention it. They're offering this one in 9mm and .45 ACP and it's… well, it's 100% "meh". There are already a plethora of great full size polymer handgun designs out there at all price points, including the Ruger SR9, which really isn't half bad. But I guess we needed another one so Ruger can have an entry for the US military's handgun trial.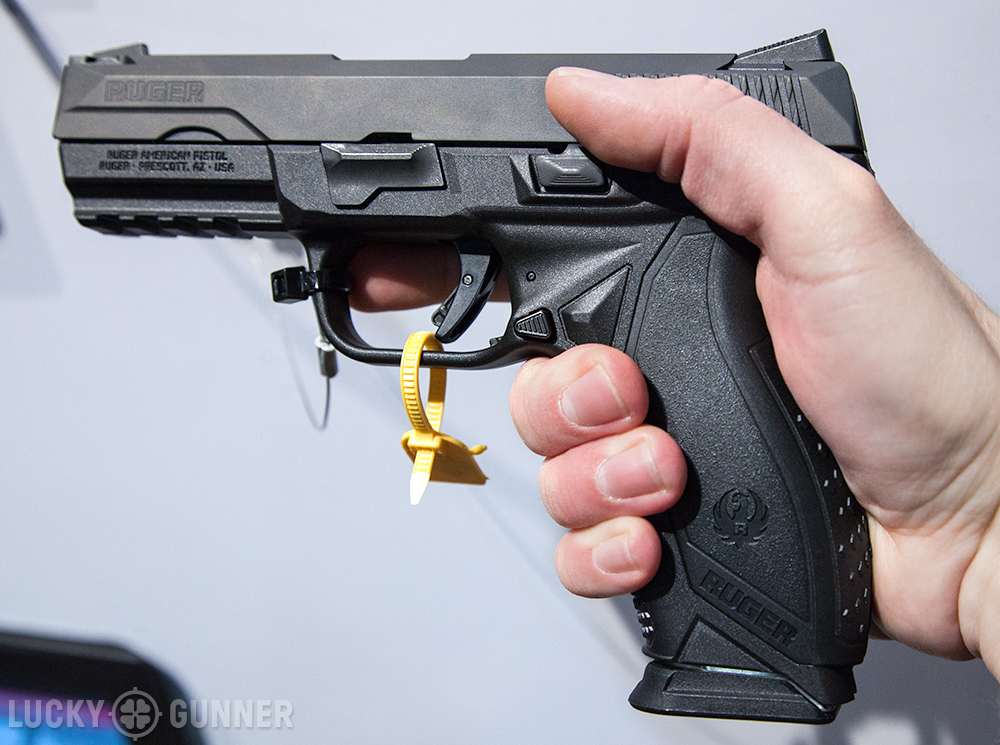 Honestly, for all I know, the Ruger American pistol could be amazing, but even if it was, I'm still not sure if I could get excited about it. It's not that there isn't any room for improvement in the full size handgun market, but setting aside their established reputations, what Glock and Smith & Wesson offer at this point that the Ruger doesn't is options — options for size, caliber, holsters, and just about any aftermarket modification or accessory I can imagine.
Ruger's reputation is built around guns that are affordable but still "pretty good". We've already seen what Ruger's "pretty good" polymer striker-fired pistol is like, and I don't know that anyone was asking for another one. If the Ruger American starts winning military or major LE department contracts, I'll be inclined to give it a second look, but for now, I'm hitting the snooze button.
Tikka T3 Canadian Ranger Rifle
Okay, so this one isn't concealable, and it's not even a handgun, but oddly enough, it was probably my favorite gun overall at SHOT Show 2016. It's a prototype of the new service rifle for the Canadian Rangers, proudly on display in a glass case at the Beretta/Sako/Tikka booth. Based on the Tikka T3 Compact Tactical chambered for .308 Win, this is probably the last new bolt action rifle that will ever be issued to any official non-sniper military unit.
The Canadian Rangers are a reserve branch of the Canadian Armed Services. It's their task to patrol the vast isolated Canadian wilderness. Since the 1950s, Canadian Rangers have carried aging Lee Enfield No. 4 .303 British rifles, primarily as protection from dangerous animals. Thanks to a dwindling supply of spare parts, the Rangers were finally forced to upgrade to a more modern rifle, but after trying several options, they've decided to stick with a bolt action design. This makes perfect sense. The rangers are not a combat force, so they don't have any need for high volumes of rapid fire, but they do need a powerful rifle that is guaranteed to work in a variety of hostile environments and extreme temperatures.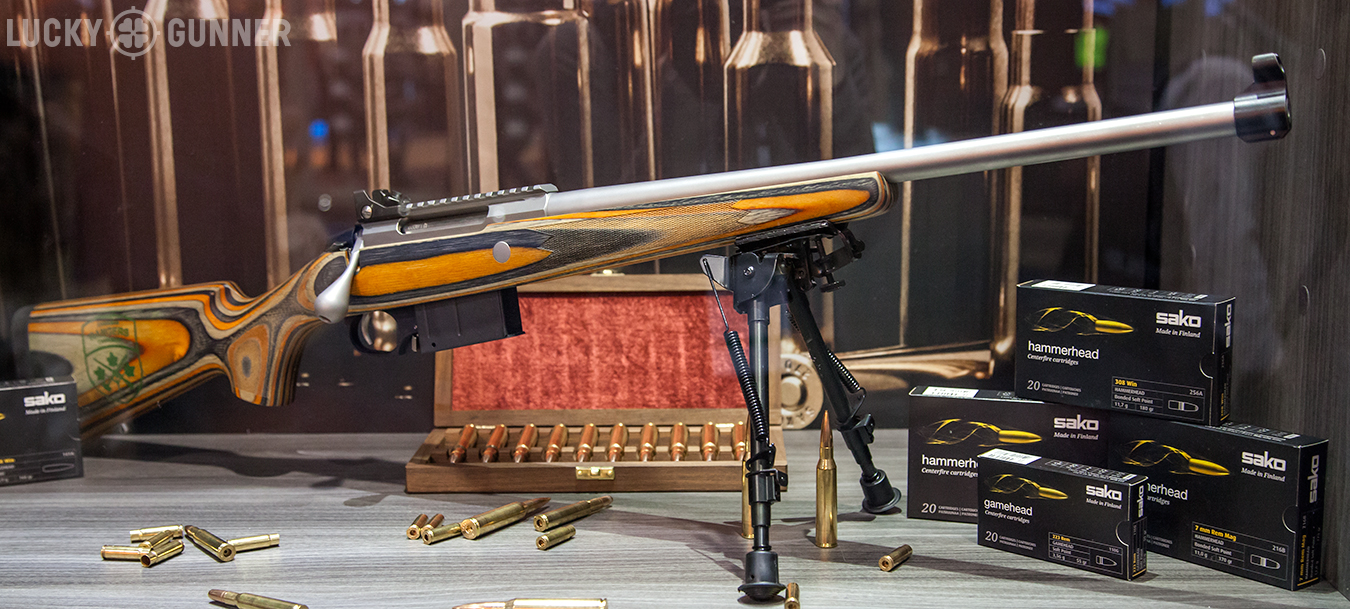 The modified Tikka T3 they chose is nothing less than a superb execution of the Jeff Cooper scout rifle concept, minus the forward mounted scope. And that's no coincidence. The traditional idea of the military scout, from which Cooper borrowed the name, very closely fits the mission of the Canadian Rangers. The scout rifle is for someone who has to travel long distances on foot through harsh terrain and might have to shoot something big along the way. That pretty much sums up what the Canadian Rangers do.
The specifications of the final rifle haven't been determined yet, and it sounds like they're still working on a few tweaks. The prototype model has a set of aperture sights, a 10-round detachable box magazine, and a high visibility laminated orange stock. The rep at the Beretta booth told me that a commercial version of the rifle is likely once the specs are finalized. I don't know if I'll necessarily buy one (especially if it has an orange stock), but the very fact that in the year 2016, a major firearms manufacturer is putting together a lightweight bolt gun that actually has to perform under harsh real-world conditions is really cool.
That's all I've got for SHOT Show 2016. For more comprehensive SHOT Show coverage, be sure to check out The Firearm Blog, Shooting Illustrated, or Guns Holsters and Gear. Let us know in the comments what got your attention from this year's SHOT Show.